Streetsblog Denver Is Looking for a New Editor to Cover Urban Transportation and Lead Our Next Chapter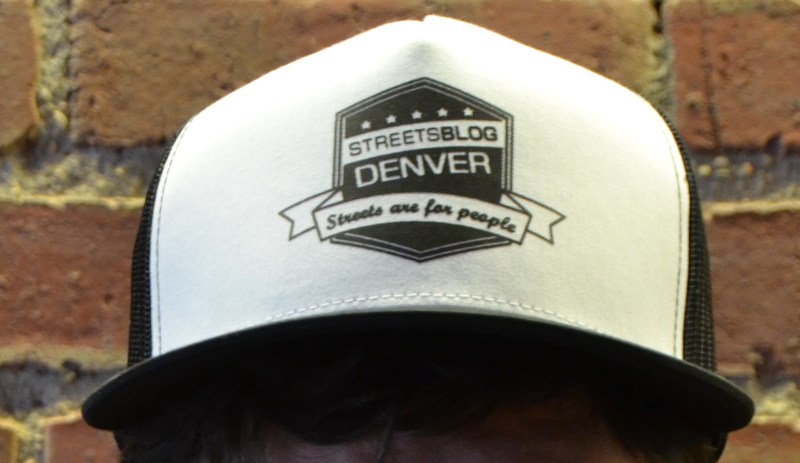 This is hard to say, but after founding Streetsblog Denver almost four years ago, I'm moving on from my seat at the city's most prolific transportation news desk.
My time heading this organization has been intensely rewarding, and I'll be sad to leave when I do. Stay tuned for a sappy goodbye post. For now I'd like to focus on finding the right person to write the next chapter of Streetsblog Denver. (Here's a PDF of the job description and how to apply.)
This job is a dream for anyone who cares about making the city's transportation system work for people instead of solely for cars. We aim to change public policy through original reporting and commentary, and it works. As former Streetsblog editor-in-chief Ben Fried recently wrote, "When you publish something on Streetsblog, policy makers read it, smart people share it, and if you've done a good job, that attention yields tangible improvements on our streets."
He's right — I've seen things change for the better since Streetsblog Denver came around. Still, we've only gone a short distance. That's where you come in.
Job Description
We are looking for a talented journalist to run Streetsblog Denver, a daily news site dedicated to covering sustainable transportation and livable streets in the Denver.
Since 2015, Streetsblog Denver has covered the movement to transform our city by reducing dependence on private automobiles and improving conditions for walking, biking, and transit. We've broken important stories about transit funding, pedestrian safety, and bicycle policy from day one. And our writing makes arcane topics like parking prices and induced traffic accessible to a broad audience.
Today, hundreds of thousands of readers rely on the Streetsblog network, and the online Streetsblog community is the connective fiber for people all over the country working to make their streets safer and more sustainable. Streetsblog Denver, New York City, Los Angeles, San Francisco, Chicago, and the national USA site connect local, grassroots livable streets advocates with one another and to a national movement for reform.
We welcome applications from engaging reporters and writers who want to lead a respected, influential source of information and commentary on Denver transportation and planning issues. The ideal candidate will have a firm grasp of local politics and a keen sense of how Streetsblog coverage can help advance transportation policies that improve conditions for transit, biking, and walking.
Responsibilities
Streetsblog combines a distinct advocacy bent with newspaper-quality journalism. Toward that end, we are seeking a reporter to run a well-rounded beat full of original content, interviews, event coverage and engaging commentary. Applicants should be enthusiastic about the notion that journalism can be conducted with integrity and fidelity to the truth while retaining a point of view. Knowing how to effectively impart a message without overwhelming your writing is an essential skill for this position.
In addition to reporting, the editor will, alongside the local Streetsblog Denver board of advisors, raise funds and plan events.
The editor and executive director will:
Create a daily stream of news and content that builds Streetsblog Denver's audience
Research and write enterprise pieces about developments in transportation and planning policy happening around the city
Track ongoing stories, such as pieces of legislation or specific street redesigns, and build narratives around them
Conduct interviews and cultivate relationships with lawmakers, public officials, advocates, and policy experts
Produce commentary that holds officials accountable for their decisions, and correct errors and misperceptions that surface in the media
Work with the local Streetsblog Denver board of advisors to raise funds and plan events
Pinpoint opportunities for transportation improvements and reforms, and explain what has to change to enact them
Mix in short posts and photo-based content
Create content for and manage Twitter, Facebook, and Instagram accounts
Manage and edit freelance contributors
Qualifications
Previous reporting/writing experience, ideally covering transportation or planning issues
Excellent writing and research skills, as evidenced by writing samples
Proven ability to manage high volume of content production — reporting, writing, and social media — with consistency
Experience with nonprofits and/or fundraising a big plus
Passion for and knowledge of transportation, urban planning, and land use topics is a big plus
Experience with Word Press or other blogging/content production platforms is a big plus
Salary & Benefits
Salary is commensurate with experience, and Streetsblog offers a competitive benefits package. Streetsblog Denver is a project of the Colorado Nonprofit Development Center, a 501c3 organization.
To Apply
Please send a letter of interest, resume and writing samples to streetsblogdenver@gmail.com by October 9, 2018.