New Orleans Gets Protected Bike Lanes Almost Overnight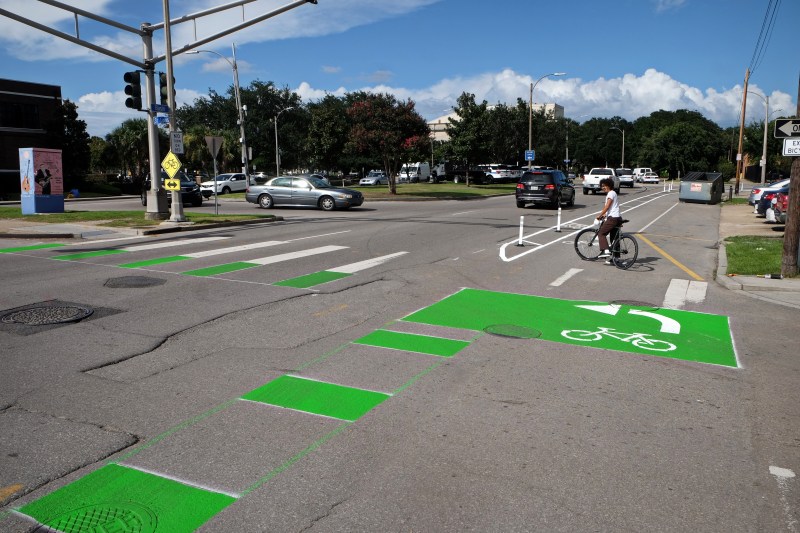 That was Big Easy!
A New Orleans group is installing five protected, albeit temporary, bike lanes on key corridors as a demonstration of "how streets can be transformed to safely and equitably serve everyone who travels," the group Bike Easy said in a statement.
Three of the five routes are already laid down, thanks to volunteers. The total demonstration, which is called "Connect the Crescent," will measure almost four miles, and fill several gaps among the existing painted bike lanes.
"We've built a lot of bike lanes over the last 10 or so years but we're trying to make sure that they actually connect to each other and they're high quality," Bike Easy's Rob Henig Bell told Streetsblog.
The bike lanes are being constructed using high-grade pavement tape (meant to least up to a year), green paint and plastic bollards. Bike Easy and its volunteers have so far installed a bike lane along Baronne Street downtown and two additional small segments that connect existing bike lanes to the Lafitte Greenway trail to the north and to the Canal Street Ferry Terminal to the south. The other two connections, including Decatur Street through the French Quarter — which will run down the center of the street — will be completed before the end of the month, said Henig Bell.
The temporary lanes will be gone by the end of the year, but will hopefully linger in the minds of city officials when they plan their own improvements.
"They've committed to building miles and miles of protected bike lanes in the next few years," Henig Bell said.
The entire demonstration will cost $75,000.