Eyes on the Street: Temporary Traffic-Calming Pops Up on South Tejon in Athmar Park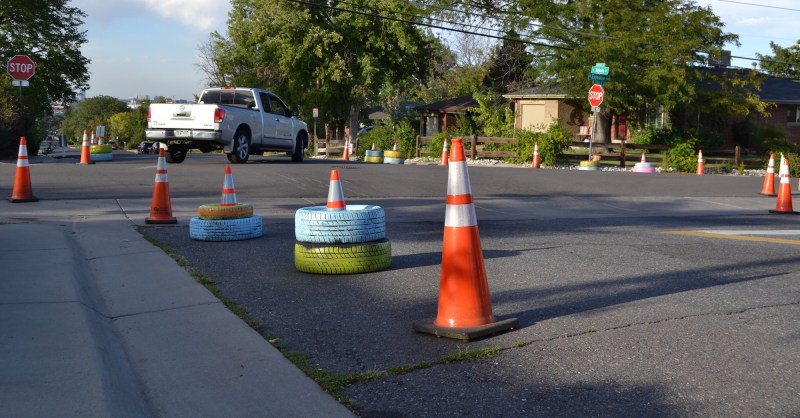 Athmar Park has some of the shoddiest sidewalks in the city, and the otherwise mellow residential neighborhood is full of speedy streets and intersections where motorists rule. That's not ideal for kids or anyone else who wants to walk and bike.
So, on Saturday, armed with traffic cones, old car tires, some paint, and some planters, reps from the Athmar Park Neighborhood Association and WalkDenver dressed South Tejon Street with three (temporary) safety interventions.
The tactical urbanists widened the sidewalk and slimmed down the street for a couple of blocks near Valverde Elementary School and KIPP Denver Collegiate High School. The quick fix slows drivers down while providing a buffer from traffic for people walking, using wheelchairs, and biking:
At Kentucky Avenue and Exposition Avenue, the groups created bump-outs — or curb extensions at every corner — with brightly painted car tires and traffic cones. A more constrained space for cars decreases driving speeds while sharper corners invite slower turns. Meanwhile, people walking get shorter crossings:
There's no question that Federal Boulevard, Alameda Avenue, and Mississippi Avenue, the three highways that hem in this neighborhood, are bigger hazards to people walking and biking. But Tejon is a major cut-through for motorists that puts people at risk, according to a thorough analysis of neighborhood streets.
"There's four schools there, there's a library, and it's one of the main north-south connections through the neighborhood between Alameda and Mississippi," said Jessica Vargas, WalkDenver's program coordinator. "So drivers tend to speed through, there aren't as many stop signs, the street's very wide, the sidewalks are really narrow, but people have to use it and cross it to get to the park."
Kentucky has two stop signs and Exposition has four, but they're often ignored. Not anymore, says Ken Knoblock, president of the Athmar Park Neighborhood Association.
"From what I hear from people, they're working, and they seem to slow people down," Knoblock said. "People are actually stopping at the stop signs," he said, which in that neighborhood is "crazy," according to his neighbor.
Both organizations want to hear from residents, and anyone else who experiences the new-look street, with a quick survey.
They'll look at quantitative data as well.
Vargas recorded driving speeds with a radar gun before the interventions (she's still analyzing the data) and has been tracking speeds during morning rush hour and on the weekend. The goal is to demonstrate to Denver Public Works and the public that the city should install permanent traffic-calming measures.
This project is the first of three for WalkDenver in the coming months. The advocates are looking for volunteers to help with other interventions on Federal Boulevard and 13th Avenue.