Let's Stop Pretending 15th St. Has a Protected Bike Lane. Fix It with Enforcement, Better Design.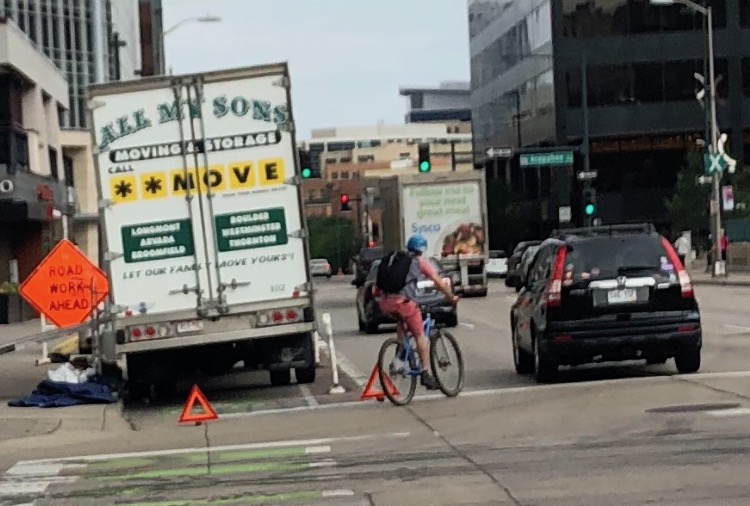 A guest column from a Streetsblog Denver reader.
For about two years, I've been biking to and from work almost every day. I'm not a cyclist for sport. I simply commute by bike for the health benefits and convenience. It also doesn't hurt that my trips add zero smog to Denver's air, either.
And, while I pay attention to headlines related to pedestrian and bicycle safety, I am not part of any organized efforts or groups working on issues pertaining to bike lanes, safety, or sustainable transportation. I'm your ordinary B-Cycle loving bike commuter.
And yet I am appalled, angry, and frustrated by the complete absence of action from the people responsible for enforcing laws that keep us all safe, particularly the Denver Police Department and Right of Way Enforcement, a division of Denver Public Works.
I have not experienced a single commute in which all bike lanes, protected or otherwise, have been 100 percent free of dangerous obstacles. My morning commute on June 19, however, was probably the worst. On just a two-mile ride from Uptown to Union Station, I was forced to suddenly exit a bike lane and merge into three or four lanes of automobile traffic a total of five separate times.
I know everyone has a story like this, especially if you use 15th Street, but humor me.
My commute began down 16th Avenue, toward the 15th Street bikeway. A Denver police car was blocking my path, no officer in sight. I get it — police need to respond to emergencies, but this obstruction is so common, it's hard to believe that they're always endangering my safety for the greater good.
Once on 15th Street, I began traveling in the "protected" bike lane. Plastic sticks line the bikeway, signalling to drivers that they shouldn't cross them. But, realistically, they offer no physical protection as evidenced by the visible damage caused by drivers running them over — where they still exist at all.
After just a few blocks, I encountered a private moving truck parked in the public's bike path. I watched as the bike rider ahead of me was forced to merge into the travel lanes on a three-lane, one-way street with speeding cars, buses, and delivery trucks traveling at more than 30 mph. The drivers of these vehicles have grown accustomed to cyclists being in the bike lane, not in the general travel lane. Being forced to swerve into traffic causes unsafe conditions for everyone involved — except the moving truck of course.
Oh, and designated loading zone sat wide open no more than 25 feet from the truck. At least the driver put out warning triangles politely wishing cyclists good luck as they dangerously merge into traffic?
After re-entering the bike lane, I traveled only one block before the next obstacles. The bike lane was blocked in two places by caution tape that threatened to clothesline anyone who didn't see it. There was no discernible reason for this tape. "Caution" is right!
On the very next block, a delivery truck squatted in the lane. You know that spot just after Lawrence Street, where the bikeway ends and you're expected to cross three lanes of traffic to get over to the right side of the street? This truck parked illegally right before that hectic stretch. So he forced me to merge prior to where drivers expect it.
Let me be clear: I appreciate the extensive efforts put forth by various departments, organizations, and activists to help create the bike infrastructure that we have. Unfortunately, we have a long way to go to ensure that those who choose to travel via modes other than a motor vehicle can do so safely, consistently.
The 15th Street bikeway is designed for danger. Aside from the lacking physical protection and the death-defying merge after Lawrence Street, left-turn lanes for cars double as straight-ahead travel lanes for people on bikes, creating areas ripe for conflict. It all needs to be fixed.
Until then, I am calling on Denver PD and Denver Public Works' enforcement division to enforce bike lane violations, and to stop making excuses when cars, trucks, and other objects block the bike lane. There is one bike lane. There are four vehicle lanes. Do you need to stop a truck and unload? Block a vehicle lane. Or, use the designated loading zone.
Let's not fool ourselves into thinking Denver's protected bike lanes are anything close to resembling what their name implies. Not until we actually make an effort to ensure they can serve their intended purpose.