Wednesday: Join the Ride and Walk of Silence to Remember Victims of Traffic Violence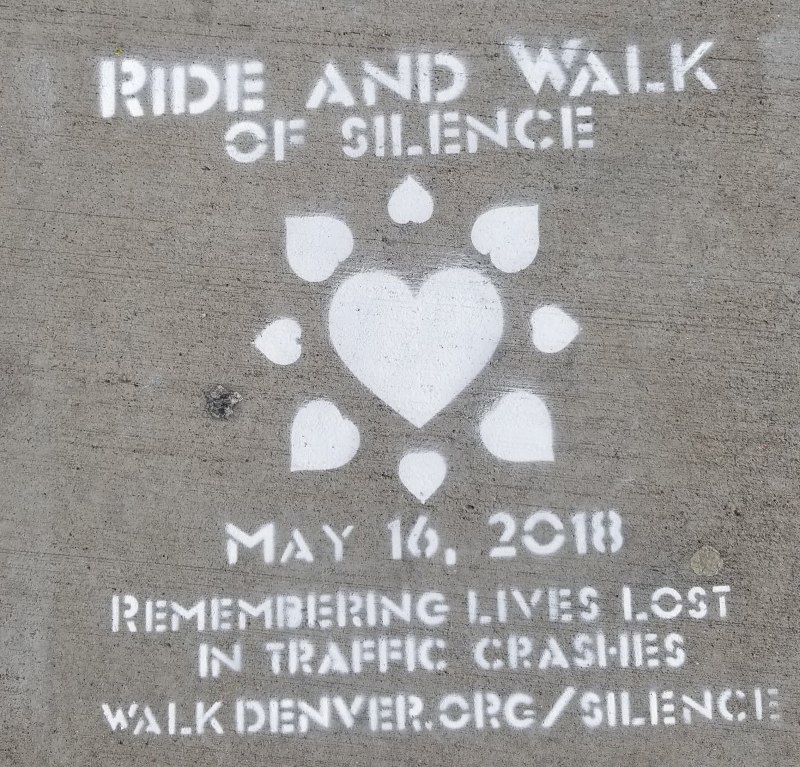 Until relatively recently, many Denver decision-makers saw people dying while walking, biking, and driving as a cost of doing business. The result has been a city desensitized to traffic violence that treats victims as statistics — if that.
Each year a group of safe streets advocates called the Vision Zero Coalition holds a ceremony to remember these victims as people who had families, friends, and a place in the world before their lives were cut short. This year's Ride and Walk of Silence is Wednesday, May 16, from 6:30 to 8 pm.
People walking will meet at Rude Park at 6:30 and walk a loop that culminates back at the park for a ceremony. People on bikes will meet at the Federico F. Peña Southwest Family Health Center (1339 S Federal Blvd.) at 6:30 and follow a bike route to the park, where the victims' names will be read.
The location of the ceremony is significant. It's a stone's throw from Federal Boulevard, Denver's deadliest street. Drivers killed 14 people walking in 2017, half of them on Federal. In all, 11 people died trying to traverse the street, which is the city's second busiest transit corridor behind Colfax Avenue.
So far the Hancock administration has picked some low-hanging fruit by making signals more pedestrian-friendly on Federal, but Denver's still waiting for robust fixes. Wednesday's ceremony will include a call for Hancock to invest in traffic-calming on the speedway, which spans eight lanes across at some points, and lacks convenient places for people to cross safely. Attendees will have the option of signing statements, which will be sent the mayor.
Stay tuned to WalkDenver's website for updates and more information.