Report: RTD, Colorado Schools Should Prioritize Electric Buses to Save Money, Reduce Pollution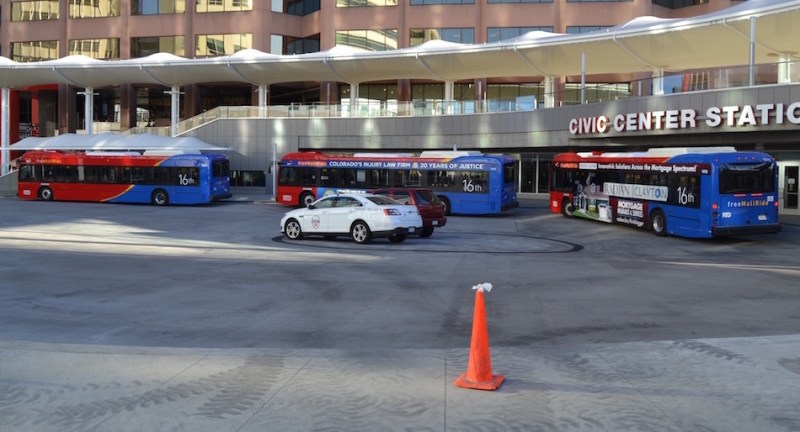 If the Regional Transportation District and Colorado school districts invested in electric buses, they would not only curb harmful diesel emissions, but would save many millions in the long run, according to a new report from the Frontier Group, CoPIRG Foundation, and Environment Colorado [PDF].
RTD is one of a few big-city transit agencies in the country to sport electric buses. It has 36, all operating on the 16th Street Mall, Denver's most popular bus route. But that's only good for 4 percent of the total fleet. Most of RTD's fleet operates on diesel — 828 buses out of 874, according to the report. Only five transit agencies in the country have more.
Making the switch to an electric fleet would carry upfront costs but could save the agency $81,000 per bus over each vehicle's lifetime, for a long-term savings of $67 million on maintenance and fuel.
It would also cut 47,000 tons of greenhouse gas emissions each year — the equivalent of removing 9,000 cars from area roads.
And the cleaner buses would result in cleaner air.
"Diesel can cause a number of health problems, including asthma and cancer, and unfortunately that's what is powering most of America's buses," said Alana Miller, a Denver-based policy analyst at Frontier Group and co-author of the report. "Our report shows that all-electric buses can help cities address public health and climate concerns while saving money in the long-run."
The report also identifies the benefits of switching to electric buses for school districts. Colorado has more than 4,000 yellow school buses that run on diesel. They carry 42 percent of the state's schoolkids, said Danny Katz, executive director of CoPIRG. Each electric school bus can save districts nearly $2,000 a year in fuel and $4,400 a year in maintenance costs, according the report.
"Electric buses remove dangerous air pollution from our communities and eliminate the exposure of kids on schools buses and commuters using transit to dirty exhaust," Katz said. "Electric buses are also cheaper to maintain, fuel, and operate. Every transit agency and school district should begin converting one hundred percent of their buses to electric."
Before reaping the long-term rewards of electric buses, there are the initial costs of purchasing them. One possible source of revenue is the $68 million Colorado is getting from the Volkswagen settlement, of which $36 million is earmarked for school and transit buses. Other funds are reserved for charging stations.
The report authors also recommend creating incentive programs to help finance the upfront cost of electric buses and charging infrastructure.
"There are state and federal grants that fleet managers can pursue as well as a role for utilities," Katz said, "like creating a loan program to help spread out the up-front cost of electric buses and developing partnerships to allow school districts to sell back excess energy in bus batteries to the grid at peak times."