Eyes on the Street: Signs of Bikeway Life on Brighton Boulevard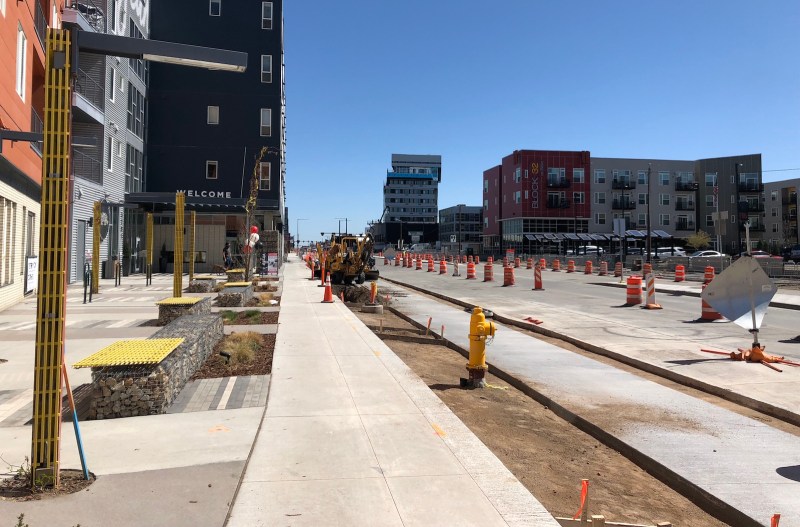 If you're like me, you've avoided Brighton Boulevard like the plague. It's not an easily navigable place while construction crews dig up the road to create a human-scaled street with raised bikeways and — blessings up — sidewalks.
So you may have missed the first signs of those features surfacing in the River North section of Five Points. The bikeways are not yet usable (some sidewalks are) but it's good to see the progress shown above.
It's been 18 months since Denver Public Works broke ground on the 2.6-mile street transformation, which will be a big deal for people who walk, bike, and take transit. Not that Brighton has ever been walkable, but construction has unfortunately rendered it even less so in parts, with a concerning lack of temporary walkways.
The bikeways and sidewalks will be completed later this year, a DPW spokesperson said, but there's no exact date.
When the project is done, Brighton will look like this…
…which is a lot safer than this:
Denverites can look forward to these changes:
2.6 miles of sidewalks where none existed before, with pedestrian refuges at wider intersections
A 2.6-mile raised bike lane, protected by parked cars for about 25 percent of its length, with turn boxes at intersections
A pedestrian-only crossing at 33rd Street with a pedestrian hybrid signal to direct drivers to stop for people crossing
More than 100 benches
New traffic signals at 29th and 35th streets (29th is in place and will be upgraded with bike signals)
Narrower, 10-foot lanes to reduce dangerous speeding
More than 400 trees that will narrow the street visually and calm traffic
300 LED pedestrian streetlights
More than 30 bike racks
Better drainage to reduce flooding
80 on-street parking spaces
In readying for the raised bikeways and sidewalks, the walking and biking path that's always existed on the southern portion of the street now bears paint and signage. Despite being raised above the street, the bikeways are one-way:
If there's a criticism of this project it's that the intersections still allow for fast, dangerous turning movements because of wide corners, allowing drivers to handle turns at speeds that will jeopardize people crossing the street on foot.
All in all, though, this project is going to be a boon for anyone who wants Brighton to anchor a human-scaled neighborhood — as soon as it's finished.