Bill to Standardize Bicycle "Safety Stop" Rules Across Colorado Awaits Hickenlooper's Pen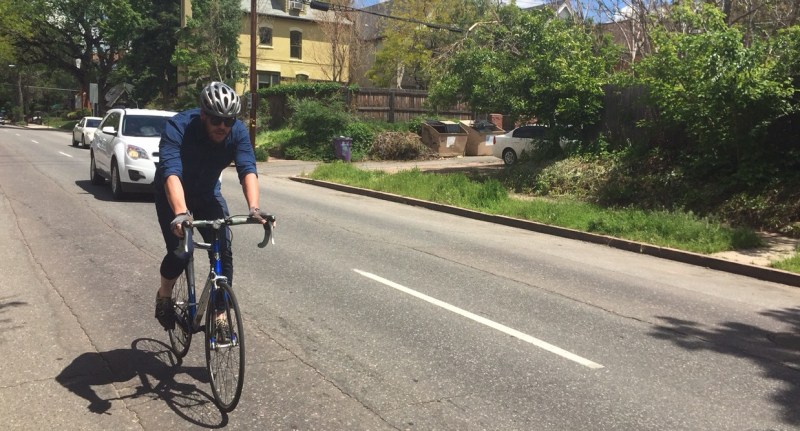 The bicycle "safety stop" bill aims to make it easier for local governments to legalize behavior that people on bikes already employ to stay safe: Treating stop signs as yield signs and red lights as stop signs. It passed the Colorado House last week, and on Wednesday, it passed the Colorado Senate in a 24 to 10 vote. Governor John Hickenlooper is expected to sign the bill into law.
Sponsored by Senator Andy Kerr and representatives Yeulin Willett and Chris Hansen, the bill creates a standard ordinance for cities and towns to adopt "safety stop" rules.
While the bill does not legalize the practice statewide, it does clear a significant barrier. Writing separate traffic ordinances at the city level that may or may not align with similar rules in other places was a hurdle for local pols, Bicycle Colorado Denver Director Piep van Heuven told Streetsblog. Standardizing the language removes that guesswork and gives local governments more confidence to proceed.
So now it's up to Denver City Council to make it happen. If electeds pass the safety stop rule, they'll be recognizing that getting around on a bike is inherently different than driving, and it makes sense for the law to acknowledge that.
People on bikes are in an "unenclosed and exposed position in the road that allows them to see, hear, smell, and sense vibrations and assess the safety of an intersection" before proceeding, according to a 2014 white paper by the Mayor's Bicycle Advisory Committee here in Denver.
A University of Colorado study found that bicyclists disobey stop lights to stay safe. When bicyclists get a head start at intersections, they become more visible to the drivers behind them, which helps avoid crashes in which the driver turns across the path of a cyclist in the vehicle's blind spot.
Other studies show the safety stop rule does not increase risk for people on bikes.
This law is a watered down version of a bill brought by Kerr in the 2017 session that would've legalized the practice statewide. Summit County, Dillon, Breckenridge, and Aspen have all adopted the safety stop.