Denver Public Works Considering Bus Lanes, Protected Bike Lanes for 18th and 19th
The redesign would make bus service faster and more reliable for thousands and greatly improve safety for people on bikes.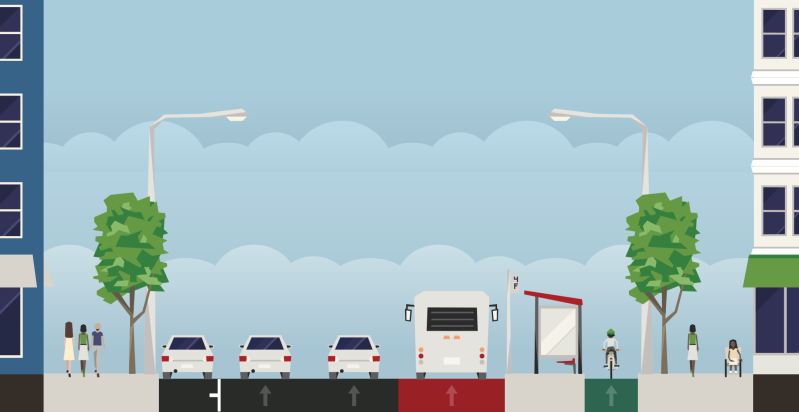 Denverites could see faster buses and safer bike lanes along 18th and 19th streets downtown. Denver Public Works is working with RTD to redesign the streets between Broadway and Wynkoop Street. We could see the changes sometime next year.
RTD's Free MetroRide service, a circulator that ferries people between Union Station and Civic Center Station, gets bogged down in traffic on 18th and 19th, as do other downtown bus lines. Bus-only lanes and signal adjustments that give transit a head start at intersections would make service faster and more reliable for thousands of daily riders, said Ryan Billings, a transportation planner with DPW.
"As we open more rail lines, as we have more transit service, and as more people move and businesses relocate to downtown, we're gonna need to have something else, and that's what the MetroRide is supposed to be — a reliever to the MallRide [on 16th Street]," Billing said. "Right now it's getting stuck in traffic. It's sitting their with everybody else in the p.m. peak, not doing much."
The agencies have yet to decide whether the bus lanes may will be in effect 24/7, or only during the morning and afternoon rush hours.
The project would also create much better conditions for bicycling. Currently there are bits and pieces of painted bike lanes on 18th and 19th, but it's stressful for people on bikes. The "bike lane" on 19th is actually a shared lane for buses, high-occupancy vehicles, and bicyclists.
In the redesign, continuous bike lanes would extend the length of the downtown streets, with protection from traffic in the form of curbs, plastic posts, or planters.
To make room for the changes, DPW may re-purpose a travel lane or a row of parking, depending on the street segment and public feedback, Billings said. The redesigns are still in the early stages.