Why Does Downtown Denver Have Street Corners That Drivers Can Roll Right Over?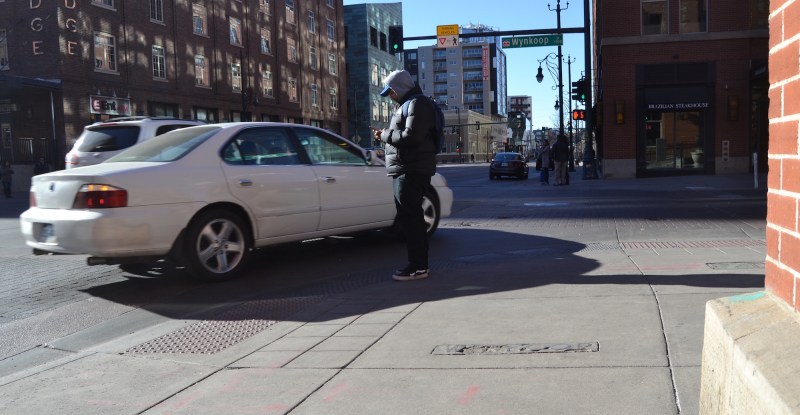 A few readers have asked us about the wide, sweeping street corners that blend seamlessly into the asphalt at many downtown intersections.
A Denver Public Works spokesperson says the corners are 30-year-old relics of a previous approach to pedestrian crossings. The intersections used to have "Barnes Dance" signals, which stop all car traffic to give people on foot or in wheelchairs an exclusive phase. People could cross in any direction, and the wide ramps with a subtle slope — called "blended transitions" or "depressed corners" — opened up all possible paths between different corners.
Some intersections still have exclusive pedestrian phases, but in 2011 the city made it illegal to cross diagonally during them. The depressed corners remain in place even though they no longer serve a discernible purpose.
These street corners put pedestrians at risk in another way too. According to the National Association of City Transportation Officials, drivers are more likely to make turns at dangerously high speeds at corners with large turning radii, and curb radius longer than 15 feet is not recommended. Most of these downtown corners have a curb radius of 25 feet.
And without a curb, drivers can roll right over them.
"Designing Sidewalks and Trails for Access," an engineering guide sponsored by the Federal Highway Administration, found "very significant drawbacks to the use of depressed corners by pedestrians."
Specifically, the manual says, this form of curb ramp enables drivers of cars and large trucks to travel into the pedestrian zone when taking right turns and "encourages" drivers to speed around corners, heightening the likelihood of injury or death.
That's no good, especially for crowded downtown streets. On 15th Street between Cleveland Place and Little Raven Street, a segment larded with depressed corners, drivers hit 22 people between 2012 and 2015, according to city crash data.
DPW doesn't have any plans to retrofit these things, though. In fact, a spokesperson said even if the city adds a curb, the radii would stay the same to accommodate trucks. But NACTO says "a large corner radius should not be used to facilitate a truck turning from the right lane into the right lane."
Fixing these dangerous conditions doesn't require the time and expense of digging up the street. NACTO recommends using planters or plastic posts (think Colfax and Park) to tighten corners and make drivers take turns more carefully.