Walk on Federal Boulevard? Share Your Story to Show Officials How the Street Must Improve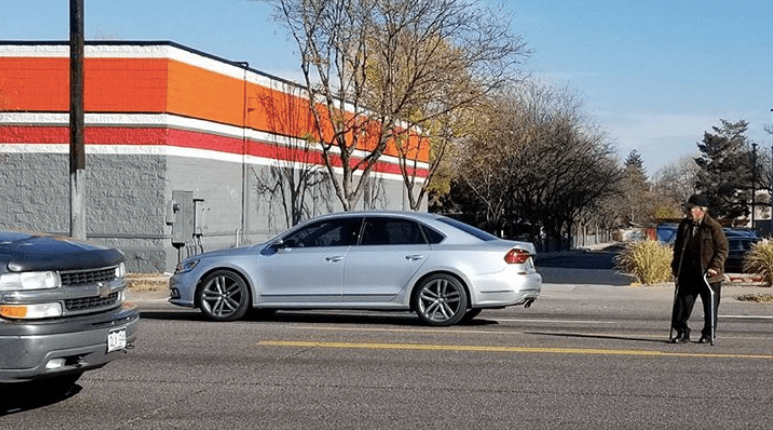 Maybe if public officials walked Federal Boulevard every day, the people who live, work, and walk there wouldn't have to wait so long for safety fixes on Denver's deadliest street.
While conditions on Federal have gotten attention from the Colorado Department of Transportation and Denver Public Works, a coalition of advocates and city departments (including DPW) want to spotlight the people who have to navigate the street.
It's called the Vision Zero Photovoice Project. Departments within the City and County of Denver are working with WalkDenver, the University of Denver, and PCs for People to illustrate the human effects of a shoddy Federal Boulevard. Anyone who lives, works, or spends a significant amount of time around Federal can apply to tell their stories.
Participants will take photos and videos of their experiences walking the street. Through a series of four, 1-hour workshops in April, the group will help residents turn the visuals into cogent cases for a better street. WalkDenver would like to see three specific outcomes, eventually, on Federal: Physical street changes that calm traffic, dedicated bus lanes, and photo enforcement (Colorado law currently prohibits the life-saving tech on state highways). Residents will present their stories at the Vision Zero Summit on May 12.
Here's more from WalkDenver on the project:
As the city begins to make changes aimed at improving safety, we want to highlight stories that show why the need for such improvements is so urgent. The neighborhoods adjacent to Federal Boulevard are home to just over a quarter of all Denver residents. The corridor itself is a diverse mix of destinations that include local businesses, homes, and important services. Federal also has the second highest bus ridership in Denver, making it an important transit corridor for all of West Denver.

The City's recently completed Federal Boulevard Corridor Plan and Vision Zero Action Plan both identify strategies for managing speed and making Federal a safe place where residents and businesses can thrive. Building community support by showcasing community stories will help increase awareness of Vision Zero in Denver and push for the implementation of the Action Plan.
You can actually earn money and a laptop if you're selected. Here's what else participants get if they clear the application process:
A $25 Visa gift card for every session they attend.
A laptop to use during the sessions (it's yours to keep afterward).
Food, childcare, and translation services at each session.
It's hard to deny the importance of experiencing a street's pedestrian-hostile environment, but showing officials how it negatively impacts residents may be the next best thing.
This article was changed to reflect the fact that this is a city-led, city-funded project.