#StreetFail: All Four Corners at 19th and Grant Off Limits to Pedestrians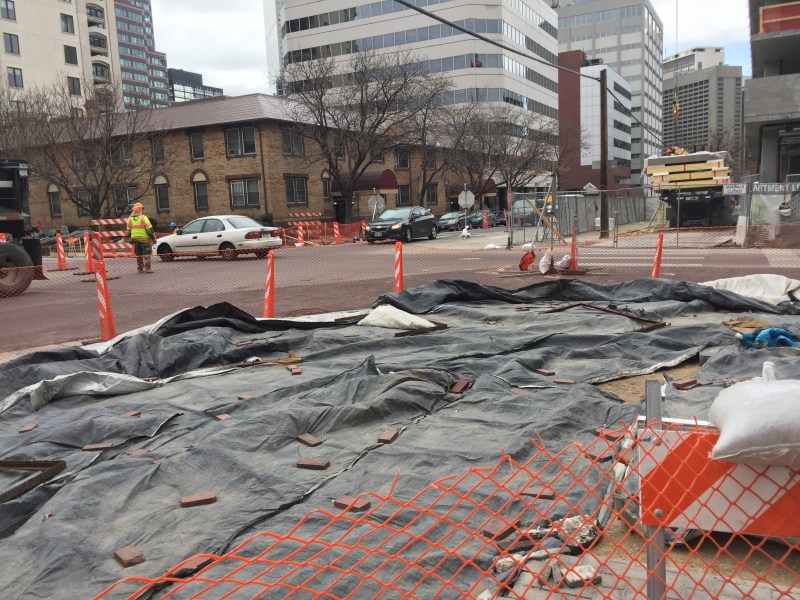 If you're walking around the intersection of 19th Avenue and Grant Street, be prepared to either take your chances in the street with cars or walk completely out of your way, because Denver Public Works has allowed construction crews to close every crossing to pedestrians.
The closures extend up each street a bit on both sides, and there's a bus stop on 19th where riders are disembarking into the roadway.
If the closure wasn't enough of a middle finger to people on foot, a sign attached to a development site yells at pedestrians not to walk in the street — as if they have much of a choice.
The irony is that some of this construction work is part of a great DPW redesign of 19th, Grant, 20th Avenue, and Logan Street that will transform one-way speedways into two-way neighborhood streets — with bike lanes and fewer car lanes in some cases.
Clearly, there's been a failure to communicate. The DPW website only shows two corners closed to pedestrians.
Denver needs to coordinate work like this so it doesn't force people on foot to make impossible choices. A pedestrian shutdown of an entire four-way intersection is unacceptable — especially when it's so easy and inexpensive to make a temporary path for people walking.
Hat tip to Streetsblog reader Nate B. who alerted us to this #StreetFail.