Reminder: You Don't Have to Drive to the Slopes
Other options exist, but they're a far cry from what's needed — dedicated bus lanes and, eventually, a train route.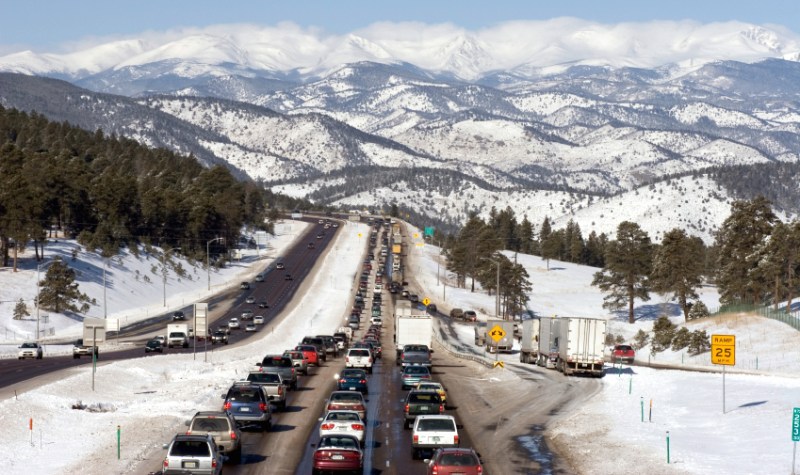 A lot of Denverites tell me they would live car-free in the city if only they could get to the mountains without one. The Colorado Public Interest Research Group Foundation and the I-70 Coalition want to remind people that they can.
The I-70 Coalition just revamped a website, GoI70.com, aimed at getting people to use the available transit and ride-sharing options. It highlights six options to get to the mountains from the Front Range: Amtrak's Winter Park Express, Bustang, Greyhound, Front Range Ski Bus, Gondola, and SkiCarpool.org. The website also points out transit systems in mountain towns, which invest heavily in buses to make it easy and inexpensive (sometimes free) to get around once you're there.
The coalition wants people to change the time of day they drive, too, because despite the horror stories, I-70 is not congested most of the time. You're not just in traffic, says CoPIRG Director Danny Katz, you are traffic.
"When you only have a couple of roads leading to a handful of places that we all want to ski at, we cannot have a system where we all drive our own cars," Katz said. "It's inefficient, unsafe and pollutes our air. The good news is people have options to get to their favorite mountains without driving their own vehicle. But those options are not enough. We need more."
Katz points to needs like dedicated lanes for buses and shuttles along I-70. CDOT created a 13-mile tolled express lane on eastbound I-70 in 2016, but only built the lane for cars — it's too narrow for buses. A similar westbound lane is in the works, but it's too early to say if it will serve buses. Yet moving more people in limited space is the only way to fix mountain traffic.
"We know when transit is convenient, then that's when people start to ride it," Katz said. "So if we can get [the bus] out of the traffic and into its own lanes, that can make a big difference. Then obviously we need more buses and shuttles once we get the lane."
A big problem with the conversation about how to fix mountain traffic is the falsehood that widening I-70 for cars is a viable long-term solution. More lanes mean more traffic in the long run — that's what happened on I-25 — which is why, eventually, Katz wants to see a train between the Front Range and the western mountains.
A rail route is technically feasible, according to a study by the Colorado Department of Transportation. The estimated cost would be between $11 billion and $32 billion depending on the tech. CDOT's projections show that operations and maintenance would pay for itself once built.
"Long-term, high-speed rail is still a critical option," Katz said. "Obviously the biggest challenge is still the price. It's a huge price tag, but just because it's a huge price tag doesn't mean it's not worth continuing to explore and identify ways to raise funds for it."
In the meantime, might as well let someone else do the driving while you listen to music, talk with friends, or do any number of smart phone things on a bus or shuttle while getting ferried to and from the slopes.
An earlier version of this article erroneously stated that CoPIRG revamped the website.