Transit Know-Nothing Jon Caldara Wants to Keep Colorado Trapped in the 1950s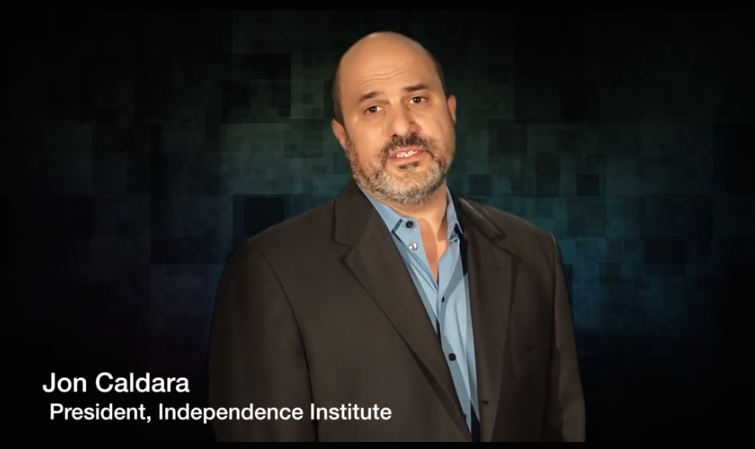 Pundits complaining about traffic and growth are a dime a dozen, but few are as tiring as Jon Caldara, the incessant change-averse columnist for the Denver Post and president of the Independence Institute, a think tank backed by the Koch brothers.
In his latest piece for the Post, Caldara compares state transportation investments in transit and biking to cancer.
"Transportation" should mean roads and bridges, Caldara says, nothing else. He bases this assertion on… well, nothing, except the notion that driving is the only mode of transportation that matters.
From the column:
Until 1991, the Colorado Department of Transportation was called the Department of Highways. This well-defined title helped fight the natural mission creep that governments crave. But it seemed a harmless enough bit of public relations to change it to the softer "Transportation." Heck, the federal Department of Defense is cuddlier than its previous name, the Department of War, and that has helped expand their mission too.

So, it's little wonder we still equate "transportation" with "roads and bridges." But mission creep, like cancer, can grow so slowly you just don't notice it until it's too late.
CDOT's foray into transit with its successful Bustang service, as well as the (meager) attention the state roads department gives to biking, is what has Caldara pitching a fit.
If anything, CDOT isn't spending enough on efficient modes of transportation. Transit makes up less than 6 percent of the agency's proposed $1.6 billion budget [PDF], and most bike funding comes from federal grants.
Nevertheless, Caldara — a former RTD director — cherrypicks projects CDOT shouldn't be funding because, hey, he just doesn't like them. Never mind that in urban contexts, transit and biking are by far the most cost effective ways to move more people in limited space.
To hear Caldara tell it, the state has no obligation to design a transportation system for people who are blind, or can't afford a car, or too old to drive. Let alone anyone who simply prefers to get around another way.
"Today our former Department of Highways is on course to not only become a statewide train and transit agency, but the central planner of feel-good bike programs, pedestrian paths, para-transit for the handicapped, open space, and cronyism," Caldara writes.
Because CDOT should only be the central planner of traffic-inducing highway expansions and car infrastructure cronyism that rewards contractors and consultants with billion-dollar projects while obliterating what remains of walkable urban fabric.
Caldara goes on to blame the Affordable Care Act for consuming funds he believes should go to roads and bridges, warning readers to "get ready for 'transportation' tax increase to pay for Medicaid [sic]." It's a transparent attempt to scare people about a potential transportation tax measure on the ballot in November.
If Caldara is so worried about fiscal prudence, he should be looking to rein in road spending. Colorado taxes and fees only pay for about half of what Colorado spends on roads and bridges, according to the Tax Foundation.
"We fight for freedom on the streets," the Independence Institute claims on its website. Unless you're talking about the freedom to get around without driving.