Next Year, It'll Be a Lot Easier to Watch the RTD Board at Work
The board will make meetings more transparent in 2018 and post full recordings online.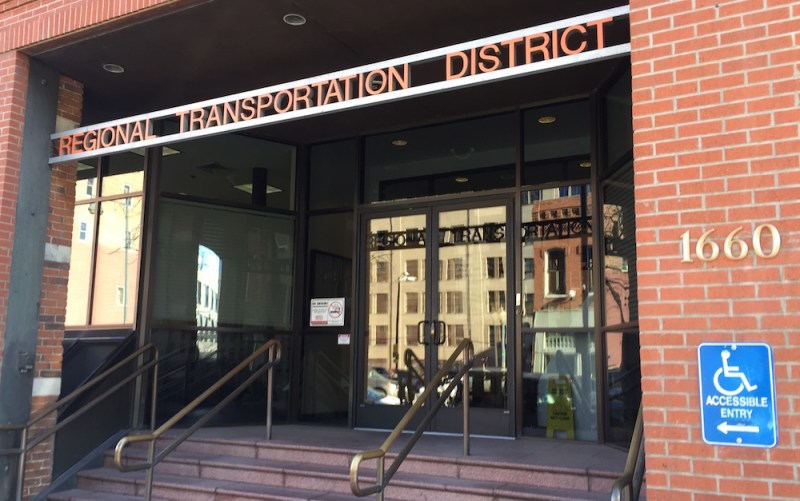 RTD is one of the few transit agencies in the country with a publicly elected Board of Directors making policy decisions, but it doesn't show the public how it operates on a week-to-week basis.
That will change in the first half of 2018, when the agency will start posting video, audio, and written transcripts of Board meetings online. The agency will not broadcast meetings live, however.
Currently the only readily available record of RTD Board meetings are the minutes that agency staffers post online, a process that sometimes takes days. The minutes are an incomplete record, a summary of the meeting through the eyes of the staffers who write them.
Without a full record, context is missing and you don't get a complete picture. Public comments, for instance, shouldn't be filtered through the perspective of agency staff.
Or take this snippet from the most recent meeting: Lorraine Anderson, the director for District L, voted against a 1 percent bonus for RTD General Manager and CEO Dave Genova. You may not know it from the minutes, but she actually voted against the small pay bump because she wanted a larger bonus for the transit chief.
At a time when most people's phones can record, upload, and play back high-quality video, good government experts say there's no reason to keep these meetings out of public view, so it's good to see RTD joining the fold.
In 2015, the Board voted 8-4 against making full meeting records available, but attitudes have changed since then. "They want the public to be aware of what's discussed, what the conversations were, what the comments from our district patrons are, so that everything is out there and available to everybody," said RTD's Ron Bibeau.
The RTD communications team has been testing a video recording system for several months without closed captioning (a video was uploaded to the agency's website last month but has since been taken down), Bibeau said. The agency wants a contractor to provide closed captioning, transcripts, and video files that conveniently segment each meeting according to the agenda.
The RTD service area encompasses nearly 3 million residents spread over 2,300 square miles and 40 municipalities. Now anyone who's curious about how the board is shaping transit policy won't have to venture to 17th and Blake to see what's happening.