WTF Is BRT? Join Us Monday for a Discussion of Buses Over Beer.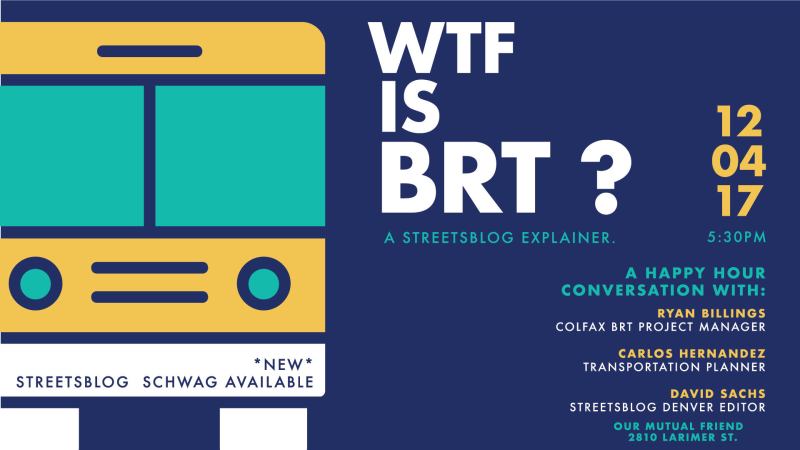 Bus rapid transit, or BRT, is a new transit service coming to East Colfax Avenue that could be a game-changer for Denver. You're invited to discuss it Monday over happy hour drinks and Indian food at Our Mutual Friend Brewing Company.
When the new line is complete, the buses on Colfax will seem more like streetcars. They'll have their own lanes running down the center of the street. Stations will have real-time arrival displays, shelter from the elements, and ticket vending to speed up the boarding process. Traffic signals at intersections will prioritize the efficient movement transit.
In short, people on buses will get where they need to go faster, unobstructed by other vehicles.
BRT is a new thing for Denver, so Streetsblog wants to help demystify it during a casual, open conversation with experts – and with you. Ryan Billings, the Colfax BRT project manager, will be on hand. So will Carlos Hernandez, a transportation planner who has worked on several local projects, including the Broadway redesign. I'll be there to ask and answer questions as well.
The event is free, and so is the food from Biju's Little Curry Shop. The beer's on you. We'll also have some Streetsblog schwag available — some stickers and this sweet hat:
So come on down to 2810 Larimer St. on Monday at 5:30 pm (short program at 6). Afterwards you'll know longer have to ask, "WTF is BRT?"