People Keep Dying on Federal Blvd, and CDOT Keeps Giving Excuses for Inaction
It's no secret that an urban street designed like a highway puts people at risk, but Colorado DOT is in no hurry to redesign Denver's deadliest corridor.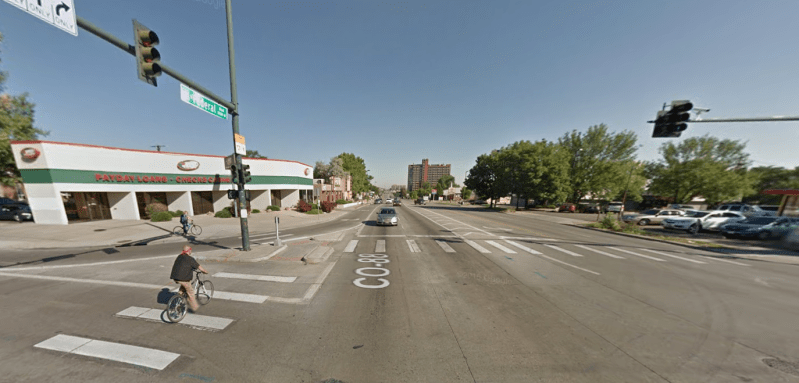 Valverde Neighborhood Association President Yara Vaneau wants a safer Federal Boulevard and a slower Alameda Avenue, but sometimes even she catches herself speeding on these highway-like streets.
"We obviously try not to, but it's just so natural," Vaneau said at the group's November 15 meeting. "It's so straight ahead, wide."
Federal and Alameda are urban streets that double as state highways overseen by the Colorado Department of Transportation. They are wide, fast, and deadly. So far this year, 11 people have been killed in traffic on Federal, including seven people on foot.
"We're bounded by roads built like highways, but Federal and Alameda, to us, they're just a street," Vaneau said. "They're where we go to buy a cell phone or to go get ice cream or cross to go to the rec center or the elementary school. And they still feel like highways. And they drive like highways."
Concerned about the rash of traffic violence on these streets, Vaneau contacted CDOT about five months ago, asking the agency to talk to her community group about what can be done to improve safety. When they finally showed up at this month's meeting, she left disappointed.
"Within the limits of what we are able to do both monetarily and physically, we are striving to do everything that we can do to improve the situation," CDOT program engineer Jay Hendrickson told a room full of southwest Denver residents.
Right now "everything that we can do" consists of adding street lights along Federal, though exactly where and when is unclear. CDOT is also working on a "safety study," Hendrickson said. But the city already has at least two documents that make pedestrian safety recommendations on Federal — the Vision Zero Action Plan and the Federal Boulevard Corridor Wide Study.
Federal is known for drag racing, and residents wanted to hear from Hendrickson whether various engineering measures could stop it. They suggested traffic signals, raised medians, and left turn bans.
Instead of responding with steps CDOT will take to reduce speeding, Hendrickson had an excuse for inaction on each idea —  engineering standards, tight budgets, and business concerns.
Vaneau had higher expectations. "I'm a cook, I'm not a traffic person," Vaneau told Streetsblog. "I'm not the expert here but I feel like there are other cheap things they could do like narrowing the lanes, changing the speed limit, and things that really wouldn't cost that much money."
Vaneau is right of course — quick safety improvements are very possible on a street like Federal. On East Colfax Avenue, another state highway, CDOT and Denver Public Works installed an inexpensive fix to a particularly dangerous intersection. The state agency spent $80,000 on materials and provided the labor force, according to DPW, so it can improve safety on Federal too — if its leaders want to.
Denver police want CDOT to take action too.
The officers who patrol Federal know all too well how drag racing and speeding threaten public safety. Officer Rueban Garduno told the Valverde neighborhood meeting that the department is increasing shifts to enforce speeding, but it won't be enough as long as there's a street "built as a highway in the middle of our town."
"We're trying," Garduno said. "But the bigger picture of it is Federal Boulevard itself needs to change. There's a lot of uphill battle that we have to fight with the state to get them to change this from basically a highway."
Starting this week, Denver Public Works will adjust signals at 10 intersections between Virginia and Jewell avenues as part of its commitment to Vision Zero. Each intersection will now have a pedestrian phase every cycle and countdown indicators that show people how much time they have to cross. DPW will adjust signals at seven of the intersections to give people walking a head start.
An earlier version of this article stated that 10 people have died on Federal, six of them pedestrians.