How Denver Could Fix the Car Sewer That Is Hampden Avenue
There's an initiative afoot to reverse decades of car-first planning in southeast Denver by retrofitting the area for people walking, biking, and using transit.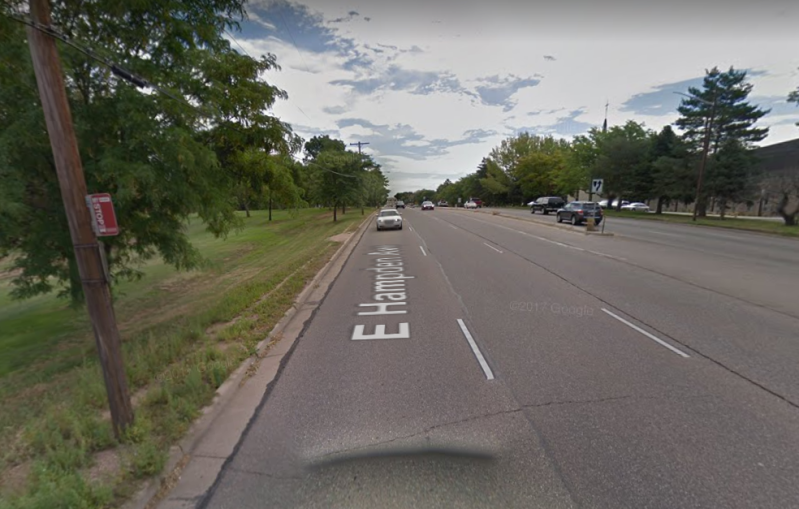 Hampden Avenue needs some serious help.
The one-mile stretch between University and Colorado boulevards, for instance, has five bus stops but no painted or signalized crosswalks. Drivers zoom by with a six-lane berth while people walking trudge along a dirt path where sidewalks should be. Drivers can legally go 40 mph here, but on other parts of Hampden the posted speed limit is 45.
"We have big, wide streets and wide lanes, two interstate freeways, and three state highways," Councilwoman Kendra Black said during a recent tour of her district. She's not bragging. "Most of my district has those 30-inch sidewalks," notes Black. "Not wide enough for a double baby jogger."
Hampden is one of the main streets in Black's district, which has four RTD light rail stations — five if you include Dayton Station, which serves her constituents but sits in Greenwood Village. For the most part they're drive-to transit stops disconnected by I-25, pedestrian-hostile streets, and sprawling shopping center parking lots.
Black salivates at the new destinations and street improvements she sees popping up in more urban parts of the city aimed at prioritizing people walking, biking, and using transit. "All the cool things that are happening aren't happening here," she said. "Younger people are moving down here and are wondering why it's like this."
Enter the Hampden Corridor Vision Study, which launched Thursday with its first public meeting. Yes, it's yet another study that may or may not sit on the shelf for years to come — but with $5 million dedicated to Hampden Avenue "multimodal improvements" if voters approve a transportation package today, southeast Denver could see at least a few early returns.
"It's definitely an uphill battle but it's also a really good opportunity," said David Pulsipher, the city's pedestrian planner and the study's project manager. "We've got lots of people out there paying attention, and there's other interesting things going on in the city that give people sort of a taste of what's possible, so those are all positive things."
Pulsipher and his team have pitched the idea of re-purposing car lanes for sidewalks and bike lanes — to both neighborhood residents and the Colorado Department of Transportation, which owns the street-slash-state highway. More crosswalks, pedestrian islands, and turn bans are also on the table. While "that sort of stuff is to be determined through the planning process," CDOT has pushed its paving and striping schedule back to accommodate the study, Pulsipher said.
Southmoor Station will be key. Thomas Jefferson High School is a stone's throw away, but it's hemmed in by Hampden to the north and I-25 to the east, meaning kids have to walk more than a mile to get between school and transit. Deliberate dead ends between the station and the school, won by NIMBY neighborhood residents when the station was built, could be undercut by a pedestrian tunnel — eventually.
Black and Pulsipher know that if the neighborhoods around Hampden want safe streets and lively destinations, space for cars is a trade-off. They want to make that known to residents up front.
"We've gotten the sense from Councilwoman Black and others that they would like something else," Pulsipher said, "that they would like more destinations in their part of the city that are attractive in use for not just cars, but a more multimodal appeal."
Denver Public Works will continue to study the corridor, and will have short- and long-term recommendations in April 2018.