"Rolling Out the Red Carpet" for Bus Riders on Broadway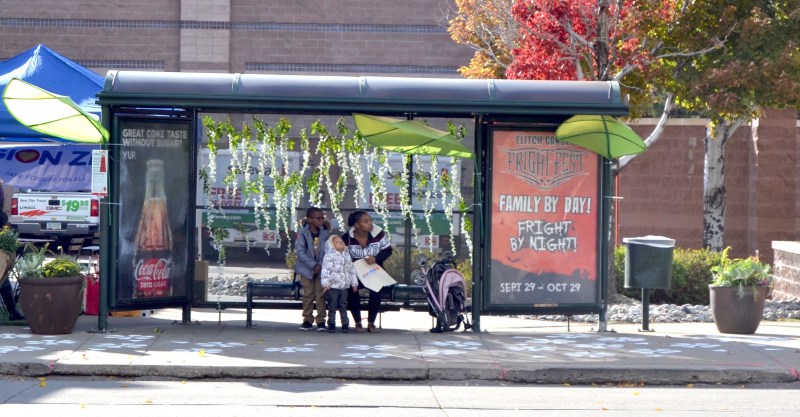 Everywhere you look, Denver's transportation system treats drivers like VIPs at a club while bus riders get the D-list treatment, queuing at the door just hoping for a table.
Transit advocates wanted to flip the script, so they gave bus stops along Broadway a makeover this weekend and literally rolled out a red carpet for buses and the people they carry. The event was to celebrate a six-week-old 24/7 bus-only lane outfitted with red paint to separate it from car lanes. The project by Denver Public Works and RTD has already made transit faster and more efficient than the previous setup, bus riders say, when the lane only prioritized buses during rush hour.
"It is faster, which is pretty good because they don't have to worry about making it to the stop on time due to the rest of traffic," said Brandy Davis, who was waiting with her two kids at the bus stop at Broadway and Alameda Avenue. "It's pretty neat."
A bus decorating contest, organized by the Better Broadway Coalition, was about more than prettier bus stops and good vibes. It was a demonstration. Advocates wanted people to understand that transit should not be a second-class way of getting around.
Henry Gonzales, a man without a home or car, walks and takes RTD everywhere. He likes the changes because the bus is "very much so a lifeline" he said Friday, after stepping off the 0 at Broadway and Alameda to fill a prescription.
But the city's transit system is far from a VIP experience. Some Denver bus stops are so pathetic that people build makeshift benches. Others are missing sidewalks, and most lack shelter from snow and rain. Walk phases at pedestrian crossings last seconds while drivers enjoy luxuriously long green lights. And, on every city street except three (Broadway, Lincoln, and the 16th Street Mall), buses full of people get caught in congestion caused by single-occupant vehicles.
"The bus stops need to be lighted better because some of us work at night or can't make it where we need to be," Gonzales said. "And more bus stop seating. There is not hardly any seating anywhere. Some people would just like to sit down and take a chill."
Denverites are looking forward to a time when treating transit riders like important people is the norm, not a special occasion.