One Family's Bureaucratic Ordeal to Get Speed Bumps On Their Residential Street
Christina Alderfer and Zach Bishop have a speeding problem on their Cherry Hills Village street. They've endured a maze of red tape and resistance to get a simple traffic calming measure.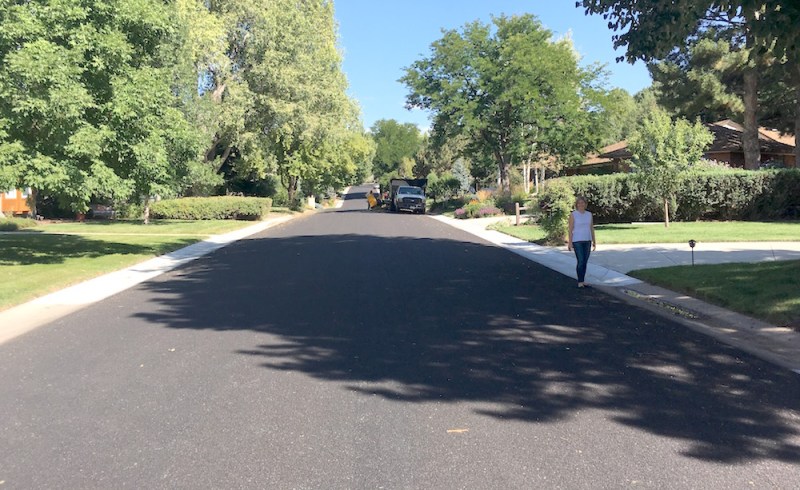 Christina Alderfer and Zach Bishop live on a residential street in Cherry Hills Village. They have two sons, ages 9 and 6. Naturally, they would like to keep their kids safe from traffic. But drivers don't always care.
"We're witnessing people fly by our house at 45 miles an hour on the wrong side of the street, texting," Bishop told Streetsblog.
So the couple did what any concerned parents would do. They asked their local representatives for speed bumps.
That was about 18 months ago. There are still no speed bumps on South Clermont Street.
Bishop thought some inexpensive steps to get people to drive at non-lethal speeds in a residential area would be a no-brainer for Cherry Hills Village officials. He was wrong. Since their request, Bishop has met with the local traffic department, City Council rep Katy Brown, Mayor Laura Christman, and Police Chief Michelle Tovria, trying to steer through a maze of red tape.
Contrary to the family's experience, their local officials assert that everything is fine on Clermont, citing standards and traffic manuals.
"We're a small city that seems to want to maintain its semi-rural status," Bishop said. "But a lot of people in this city have kids, and there are just things that we can do better, inexpensively I think, that can make things better for pedestrians."
The Cherry Hills government gave Bishop and Alderfer lots of excuses why speed bumps would not work — they'd slow down fire trucks and ambulances, they'd scuff up cars. But if they could prove that speeding was a problem, the City Council would consider speed bumps.
So how does Cherry Hills Village define a speeding problem? The old 85th percentile rule, which has its roots in an outdated traffic concept from 1964. If at least 85 percent of drivers don't exceed the 25 mph limit by 5 mph or more, there is no problem in the eyes of the city [PDF]. Even if one in 20 drivers flies down the street at 40 mph but 85 percent stay at 29 mph or less, that's not sufficient a public safety risk the city will address with speed humps.
First, to get the city to conduct a speed study, Bishop needed a petition signed by 50 percent of the residents on his block. He knocked and knocked and got what he needed.
But on the day of the study last November, there was a construction project on his street, complete with a worker holding up a "SLOW" sign, which affected the numbers. So he had another study done. The results did not meet the 85th percentile threshold.
There was another option. If Bishop got signatures from 80 percent of his neighbors, the Cherry Hills Village City Council would consider adding a speed bump, but Bishop and Alderfer would have to pay for it. Oh, and the city only installs speed bumps in pairs, so the pricetag would add up to $3,300 — if the traffic-calming measures even get approved. It took him four or five outings, Bishop said, but he got the signatures.
And that's where things stand now. On Tuesday, the City Council will consider approving speed bumps on South Clermont Street, following a public comment period. Here's hoping elected officials make the right decision.
Bishop has watched Denver, its nextdoor neighbor, commit to safety goals for people walking and biking. He doesn't see why his community can't embrace similar values.
"I'm concerned about all these streets," Bishop said. "We have no sidewalks. We have a lot of children on ours streets who are constantly walking to and from the bus stop with cars going by… I just feel like there's very, very little attention to this at the local level."
If you're a Cherry Hills Village resident and are interested in attending or speaking at the City Council meeting, here are the details.