Cuts to Transit Service Are Coming as RTD Faces Budget Shortfall
Subject to ebbs and flows in sales tax revenue, RTD could fall short of budget projections by up to $40 million annually for years to come.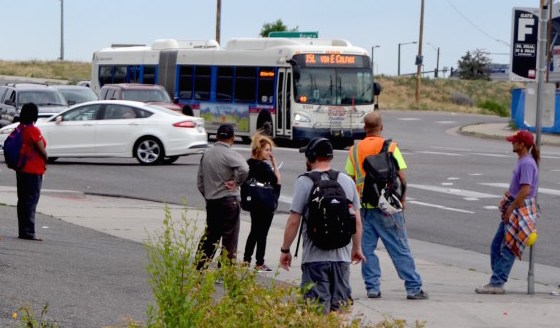 RTD could cut bus and rail service starting in January to deal with a looming budget shortfall. Starting in 2019, the agency could face shortfalls of $30 million to $40 million annually as revenue from sales tax, grants, and ridership come up short.
One long-term budget projection puts RTD in the hole to the tune of $590 million by 2030 before climbing out of it by 2035. [PDF]
Bruce Abel, assistant general manager of bus operations, told the RTD Board of Directors on August 8 that the cuts are about "living within means," according to the minutes. In coming years, the agency may siphon money previously reserved for its "base system" — core service — to pay for projects promised under the 2004 FasTracks legislation.
The news puts a big damper on upcoming expansion projects, since RTD now finds itself in the position of scaling back service at the same time as it expands its rail network. RTD has promised to open three new rail lines and three rail extensions, mainly to serve the suburbs. But if other services are cut simultaneously, it's not much of a net improvement for transit — it's transferring resources away from current riders to provide service to new riders on the expansion routes.
RTD's hands are tied to a certain extent. On its own, it has no good options for dealing with a budget shortfall. The agency can cut service, raise fares, or scale back spending on maintenance or expansion. You can debate which of those choices will hurt the least, but they all hurt.
If RTD board members wanted to, they could support a ballot measure to raise the 1 percent regional sales tax that funds RTD. State legislators could secure other revenue in the state budget to shore up the agency's finances. The idea of raising more revenue for transit came up last session, but even a small allocation for transit wasn't palatable to a decisive faction of rural legislators.
Here are some proposed service cuts slated for January, though the public will have chances to weigh in. Expect more down the road as RTD figures out how to make ends meet.
Discontinue the 89 bus between Central Park Station and the Anschutz Medical Campus. This route averages 115 boardings per day.
Reduce late-night service on the D, H, and W lines from Sunday through Thursday. The last trains would leave downtown Denver a little after midnight instead of a little after 1 a.m. These lines average 218 boardings per Sunday and 249 boardings Monday through Thursday.
Reduce frequency on the 45 bus between Peoria Station and Green Valley Ranch from 15 to 30 minutes during rush hour.
Reduce frequency on the 42 bus between 40th and Airport Station and Green Valley Ranch from 15 minutes to 30 minutes during rush hour
Reduce service on the brand new R-Line south of Florida station. The R-Line would only run south of Florida Station from 5 to 9 a.m. and 3 to 6 p.m. on the weekdays.
Reduce frequency on the W-Line from 15 minutes to 30 minutes between Jefferson County Government Center- Golden Station and Federal Center Station between 9 a.m. and 3 p.m, and between 6 and 9 p.m. on weekdays. Weekends would see trains come every 30 minutes all day. The change would affect 362 weekday passengers and 838 weekend passengers.
Needless to say, this is a step backwards if you want to create a robust transit system people can rely on to make all sorts of trips. But within Denver proper, the future is not necessarily grim, though service may get worse before it gets better.
The city says it wants to take control of its own destiny with a Denver-centric transit plan, which is currently in development. Implementing that plan will likely mean "buying up" service from RTD, much like Boulder does. So Denver can still control its own transit destiny to a large extent.
Now the question is whether Mayor Hancock and the City Council will come up with the funds to buy the transit service Denver needs.
An earlier version of this article referred to the state legislature, instead of the RTD Board of Directors, as having influence over a tax increase