Tuesday: All You Have to Do Is Eat Pasta and Drink Beer to Support Streetsblog & Bike Denver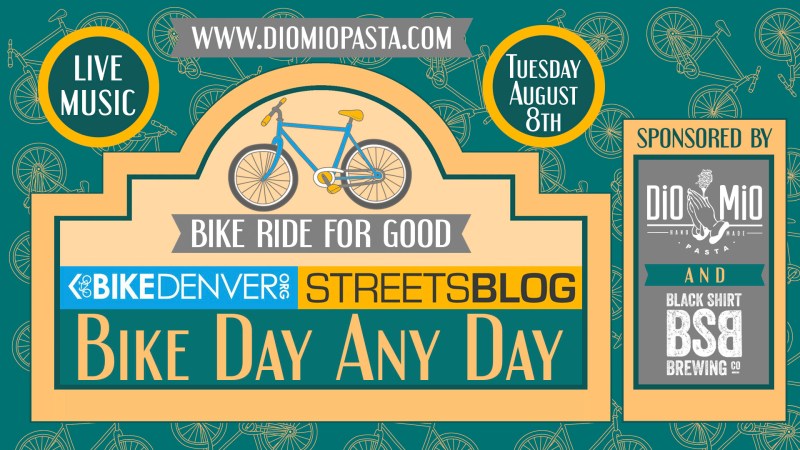 Did you know that eating and drinking can help make streets better for biking, walking, and transit? It's true. As long as you do those things at Dio Mio Handmade Pasta and Black Shirt Brewing Co. on Tuesday evening.
UPDATE: We'll be raffling off tickets to Velorama, the music festival and pro cycling race winding through Denver this weekend, August 11-13. Just another reason to join.
Join the staff of Streetsblog and Bike Denver for a benefit that starts at Dio Mio and ends at Blackshirt. The event is from 5 to 10 p.m., but you can come for as much or as little as you want. After grub there's a bike ride along some of the city's newer bike lanes at 7 p.m. — or just head directly to the brewery, where Gracie Bassie will put on a show, fresh off her performance at last weekend's Underground Music Showcase.
5280 just named Dio Mio's Alex Figura and Spencer White Denver's best chefs, and its readers voted the Italian-ish joint the city's best new restaurant. Blackshirt long ago established a similar rep for its brewery, which was featured in the documentary "Crafting a Nation."
We're lucky to have these neighborhood businesses around, and even luckier to have them donate a percentage of their sales to Streetsblog and Bike Denver, both nonprofit organizations. So: Don't be shy. Eat and drink 'til you're full. Every bite and sip goes toward making our streets friendlier for everyone.