The Eighth Pedestrian Killed By a Driver on Denver Streets This Year Was Nathan Heggenberger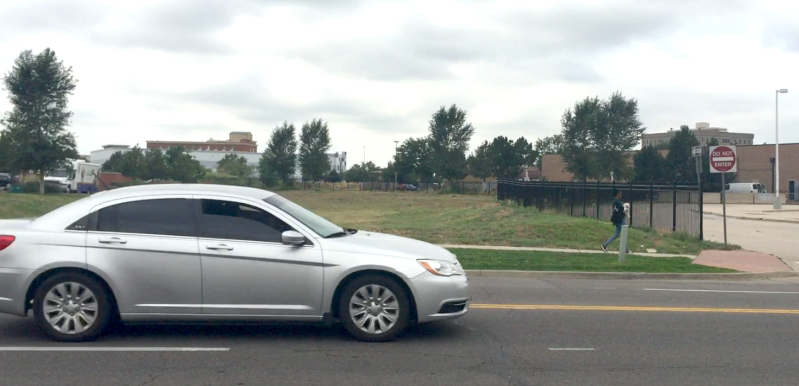 The person killed by a driver while crossing Albrook Drive in Montbello on July 15 was Nathan Heggenberger, 41, according to the Denver Office of the Medical Examiner.
Although it's been 11 days since the crash, we still know very little about what occurred that evening, about 7:30 p.m., in the 12300 block of Albrook Drive. Denver PD would not say whether the driver was speeding or distracted, because the investigation is ongoing. While police say they can't speak to the driver's actions, they they noted that Heggenberger was crossing mid-block.
Here's what Denver PD spokesperson Doug Schepman told Streetsblog in an email:
The investigation remains open, but it appears the pedestrian (adult male) was crossing Albrook Drove [sic] mid-block when he was struck by the vehicle, which was westbound. Investigators are looking into whether or not speed was also a factor. Once that assessment is finished, the case will be presented to the DA's Office for consideration of possible charges and the report will be available.
Public information is (as usual) skimp, but here's what we do know: The speed limit on Albrook is 25 mph, a rate of impact that a person hit by a motorist survives 88 percent of the time. The sun was still up during the crash. This stretch of Albrook Drive, east of Peoria Street and west of Tulsa Court, has four lanes for cars designed to facilitate driving, and three bus stops that serve the 44 and the 42. A bunch of low-rise apartments line the street, which has also has a health center nearby.
In other words, this is a neighborhood where motorists should expect people to be walking. Heggenberger did not deserve to die for crossing a 25 mph street. That's a core tenet of Mayor Michael Hancock's commitment to end traffic deaths and serious injuries — that humans are unpredictable, but we can create a forgiving transportation system that protects people from fallibility, instead of one that kills them.
Heggenberger's death marks the eighth time a driver killed a person walking in Denver this year, including 11-year-old Damian Solis, who was killed crossing the street from unincorporated Arapahoe County into Denver.