So Is Texting and Driving in Colorado Legal or Not?
Politicians will posture, but they can't spin the fact that the final law is deeply flawed.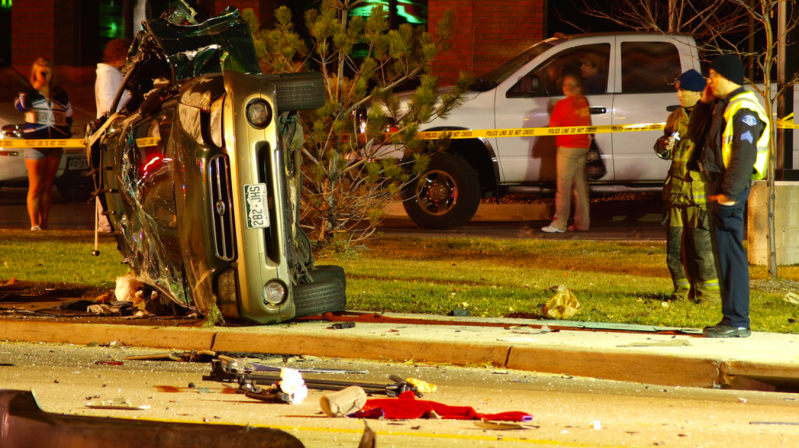 On Tuesday, the Denver Post dove deeply into the new Colorado law that ups the fine for texting and driving from $50 to $300. In the article, "Hold the phone. Did Colorado just make it legal to text and drive?," reporter John Frank writes that lawmakers created a bill that indirectly legalizes texting while driving.
And he's not wrong.
On its face, the law makes sense. The specter of a bigger fine is meant to deter the deadly act — as if killing someone or being killed wasn't enough. And the offense now costs drivers four points toward a license suspension instead of just one. But as Streetsblog reported last month, the problem comes with the law's enforcement.
The law is only enforceable if police officers witness a person texting and witness them driving in a "careless and imprudent manner" — like swerving or speeding, according to the text.
Anyone texting while operating a multi-ton metal machine is by definition driving carelessly. But a cop has to witness additional careless driving behavior (other witnesses don't count) in order to assign the fine. Logic follows that texting is okay in the eyes of the law, as long as careless driving is not obvious.
You can thank Sen. Owen Hill, a Colorado Springs Republican, for the watered down safety law. From the Post:
To win passage, Court needed support from Sen. Owen Hill, R-Colorado Springs, who opposed the original texting-while-driving bill because it went too far. Hill, who is running for Congress, agreed to support the measure if it softened the language about enforcement.

If you are stuck in traffic, he said, it shouldn't be a crime to send a text message to a spouse that you are running late. But if you're driving carelessly, Hill continued, "you're putting everyone else in danger and you pay the price."
With respect to Hill's affinity for punctuality, people's lives are more important.
Bicycle Colorado followed the law's sausage-making and eventually supported it, though the group wanted to see more stringent restrictions, Executive Director Dan Grunig told Streetsblog.
"No we're not satisfied," he said. "We want texting while driving to be fully banned, fully enforceable, carry a high penalty, and as a leading cause of distracted driving, it's something that needs to be at the top of our list. And we're frustrated that changes aren't happening fast enough. This bill took a step towards increasing those penalties, but it's not enough."
Bottom line, according to Grunig, is that the old law wasn't working. "A $50 fine compared to a much bigger fine in the new bill, [the $300 fine] seems like it would be a much bigger deterrent," he said.
Colorado DOT supported the law as well. "We understand that the law is controversial," CDOT spokesperson Sam Cole told Streetsblog. "But we believe that the greatly increased fines and penalties will make a big difference."
Sen. Lois Court, a Denver Democrat, told Colorado Politics she was "livid" over the Post's headline. The Colorado Senate Democrats backed her up, tweeting that the Post article "insults the bipartisan work" that went into the bill.
Politicians will posture, but they can't spin the fact that the final product is deeply flawed. More from the Post:
It's unclear how many states require a careless driving offense before a ticket is issued, but Colorado's standard now puts it close to the handful of states that make texting while driving only a secondary offense — meaning another violation is needed before officers can enforce it.

"Compared to a lot of other states, this is not very harsh," said Jay Tiftickjian, a defense attorney in Denver who specializes in traffic law and DUI defense. "But what it does is get the message out there to prevent people from doing it."
Colorado drivers were responsible for 605 traffic deaths last year. Statewide, law enforcement convicted just 311 people of texting while driving a year, on average, over the last three years. Legal experts told the Post the new law could result in more court challenges, which could mean fewer convictions.