Details Scarce After Driver Kills Pedestrian on Federal Blvd, the Fourth Such Death in 2017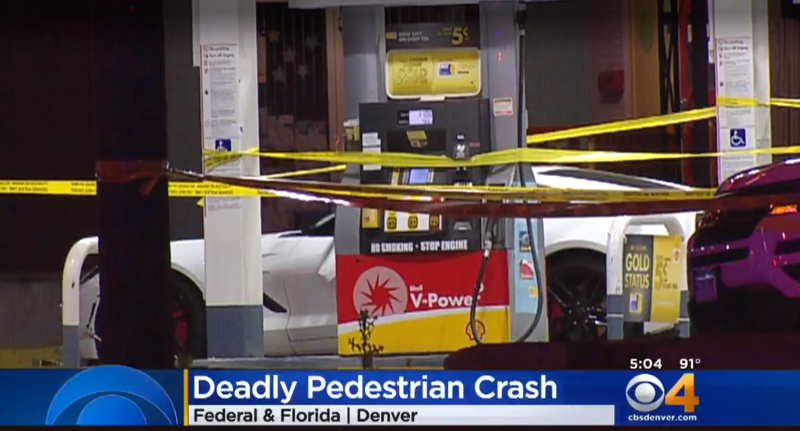 It's been almost two weeks since a driver killed a person walking on Federal Boulevard near Florida Avenue. We don't know much more than that.
Denver PD hasn't released the crash report, which would give the public a basic summation of what happened the night of June 8. Was the driver speeding? Were there witnesses? Officer John White, a Denver PD public information officer, told Streetsblog he couldn't say.
The investigation is ongoing and the report "probably won't be done for a couple of weeks," White said.
Here's we know: The victim was a white male in his late 40s, according to Denver PD. The coroner's office has identified the man, but hasn't released his name because because next of kin have yet to be located, said Steve Castro, operations supervisor. He may have been disabled, as he used a walker, a friend of the victim told CBS4.
The same friend said a driver nearly struck the victim the night before, when a car went careening into a business. "In the same place, another car went into the nail salon last night and almost hit him then," he told CBS4. "He got by last night but he didn't get by tonight."
Federal, designed to facilitate fast driving, is probably the deadliest place to walk in Denver. Of the seven pedestrians killed by drivers in Denver this year (including 11-year-old Damien Solis, who was technically crossing the street into Denver), four were walking on Federal.
No one wants Denver PD to rush the investigation, but transparency is key if the Hancock administration plans to achieve its commitment to ending the public health crisis of traffic deaths. We'll keep you updated as the city releases more information.
An earlier version of this article misstated what the police told CBS4. The driver in the previous night's crash was speeding, police said. Denver PD did not comment on the driver's speed involved in the crash that killed the victim on June 8.