Car2Go Is Trading Smart Cars for Mercedes, Among Other Changes. How Will Denver's Streets Change?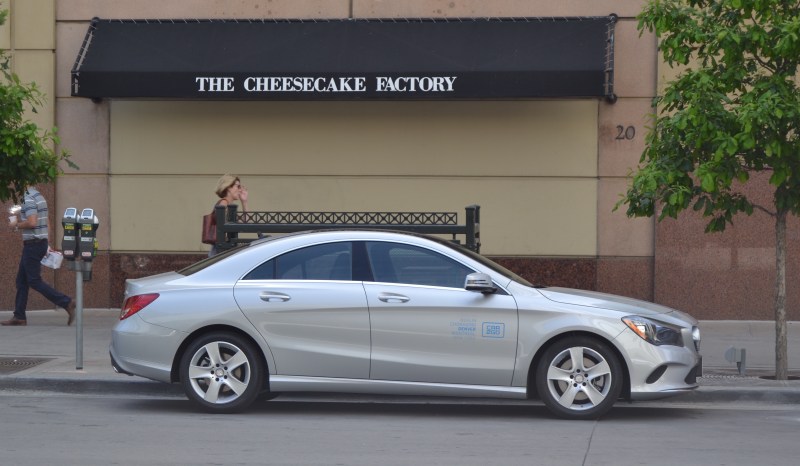 Car2Go is Denver's largest car-share service, with 330 cars and more than 42,000 members. So when the car-share company makes changes to its service model, it can have all sorts of effects on Denver's streets and how people choose to get around.
Yesterday the company began phasing out its two-seater, parking-nimble Smart cars in favor of two Mercedes-Benz models, a sedan and an SUV. Members will pay 13 cents more per mile for the luxury of five seats and all-wheel drive — a 40 percent increase. Eventually, the Mercedes cars will comprise Denver's entire Car2Go fleet. It's a business move that the company claims caters more to Denver's mountain-loving, Red Rocks-rolling lifestyle.
Mercedes-Benz…really?! I liked how little space the smart cars used and will be less likely to hop in a Benz to scoot across town.

— Sean Doyle (@SeanMiDoyle) June 15, 2017
Not everyone is buying it, though. From a public policy standpoint, car-sharing should be a tool that helps residents forgo car ownership. Will the changes help or hurt?
Members seem more excited about Car2Go expanding its service area. The company added West Colfax, Hilltop, Belcaro, Clayton, and previously uncovered parts of Park Hill to the mix. Montclair, Wellshire, and Washington Park were reinstated, after the company nixed them from the map in 2015.
Bigger cars take up more space, but can fit more people
A lot of people dig the Smart cars because they're tiny and can fit into small parking spots. There's no denying that some of those on-street spaces won't constitute parking spots for the new, bulkier cars. But Joespeh Skelton, general manager of Car2Go Denver, said the two-seaters hindered customers. Now the car-shares can function more as carpools, which will take cars off the road, he said.
"Our members were saying, 'Hey, we're limited to the Smart for two [people], and we're limited with where we go, how we use it, and how many people we take in the car,'" Skelton said. "So as we got this feedback and we looked at our model, we made the decision to bring in a sedan, bring in an SUV."
But city residents aren't necessarily concerned with getting out of the city. Car-share is utilitarian, Streetsblog reader Ryan Keeney wrote in an email. "Car2go's best serves carless urban dwellers," he said. "Abandoning the Smart cars undermines that."
Anthony Avery, a local transportation planner and Car2Go member, said he liked the four-door option, because he's most likely to use the service when guests are in town. But he doesn't understand why Car2Go wouldn't keep both vehicles for both segments of the market.
"From an urbanism standpoint, I'm not sure removing the smart cars will result in fewer [single-occupancy vehicle] trips using Car2Go," Avery told Streetsblog. "If the argument is 'people go outdoors in Denver,' I'm not sure I'm really buying that, because the point to point model doesn't lend itself as well to trips to the mountains or hiking as renting a Zipcar/EGo/Enterprise car share by the hour."
Asked why the company doesn't provide both options, Skelton said the Car2Go fleet is old, and Mercedes are simply nicer cars. In Austin, which is a similar market to Denver, "the members love it, they use it, they search them out because it's more like their car," he said.
"We look at Denver and Austin similarly where the rate of vehicle ownership is higher than it is in some of our other really densely populated downtown urban cores," said Blaire Kniffin, the company's spokesperson. "You'll see people driving Smart cars in DC and New York in terms of personal vehicles. There's probably no market for Smarts in Denver in terms of personal vehicles."
Maybe not to own, but with more than 42,000 members, the company seemed to be doing okay with the smaller vehicle in the Denver fleet. And they're 40 percent less expensive than the luxury vehicles.
Car-share can be a net positive for Denver, but cannibalizes bike-share trips
We know more than we used to about the effects of car-share services on cities. A University of California Berkeley study found that each Car2Go vehicle removed between one and 11 personal vehicles from the streets, depending on the city (the study looked at San Diego, Calgary, Seattle, Vancouver, and DC).
Here in Denver, every car-share company must survey customers about their transportation habits — it's part of their contracts with the city. The latest results, from 2016, show that people tended to walk, bike, and use transit more often after joining a car-share service. Members drove solo less, but also B-Cycled less:
These figures combine every car-share company in Denver. Car2Go is a private company with proprietary information, and doesn't share it with the city because it doesn't have to. So while we don't know exactly how much these numbers represent Car2Go's impact, it's safe to say it's significant given the company's market share here.
It'll be interesting to see if and how these numbers change. Skelton said the company would consider changing its model again, based on member feedback.