Eyes on the Street: "HAWK" Signals Installed in Stapleton, More to Come in Westwood, Green Valley Ranch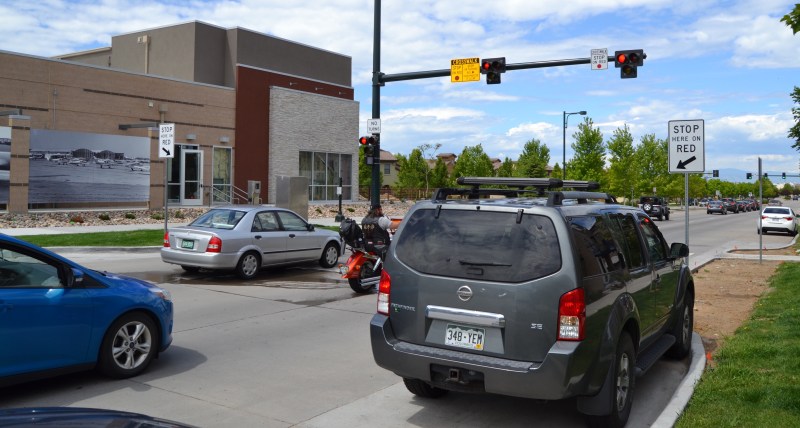 Denver is now home to three "high-intensity activated crosswalk beacons," or HAWK signals, to make crossing safer for pedestrians. More are on the way.
The first, installed by Colorado DOT at I-70 and Pecos Street, has been around awhile. The two newest ones are in denser residential and commercial areas, both in Stapleton — at the intersections of Martin Luther King Jr. Boulevard and Galena Street and at East 29th Drive and Galena.
Unlike traditional traffic lights, HAWK signals have four phases: blinking yellow, solid yellow, blinking red, and solid red. It's activated after a pedestrian presses a button. Here's how it works:
The signal flashes yellow immediately after someone pushes the button.
It then turns solid yellow, signaling to drivers that they should prepare to stop.
It then turns red and, ideally, drivers stop.
The signal eventually begins flashing red, and drivers can proceed after people have crossed and are safely on the sidewalk.
Evergreen Development and the master developer for Stapleton, Forest City, picked up the tab on these signals, a Denver Public Works spokesperson said. DPW will install two more HAWK signals in the coming months — one along Morrison Road in Westwood and one at Green Valley Ranch Boulevard and Walden Street.
There are certainly less wealthy neighborhoods than Stapleton, with more dangerous intersections, that deserve these signal, which cost just $150,000 a pop (compared to $300,000 for standard traffic lights). More, please, and faster.