The Pros and Cons of RTD's Long Overdue "Smart" Fare Card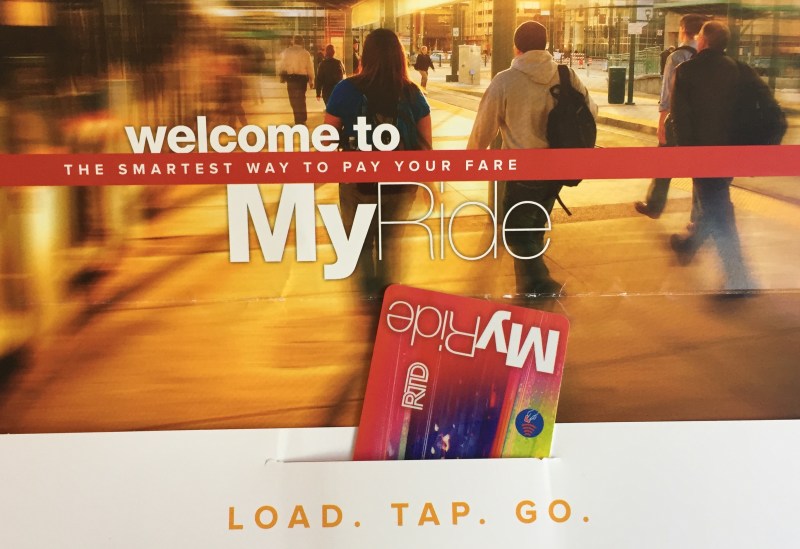 You might want to curb your enthusiasm about Denver finally getting a new fare payment system with the release of its MyRide card to the general public. Yes, it will be a faster way to pay fares, but it comes with plenty of inconvenient quirks that will limit its appeal.
A refresher: The MyRide fare technology lets people load and store money on a card, and tap it on buses and train station kiosks to pay fares quickly and easily. RTD began its transition to a "smart card" system more than a decade ago and has spent upwards of $21 million to get it up and running. Now that MyRide is finally here, the tech is getting overtaken by mobile ticketing — which, to RTD's credit, could go live by the end of this year.
Here's a look at what Denver transit riders will get from the new system.
Faster boarding, shorter rides
Fare technology can make a real impact on service. Tapping a card instead of digging for change or dollar bills speeds up the boarding process, leading to quicker, more efficient trips.
This is supposed to be the biggest advantage of modern fare technology — it makes the whole transit system faster for everyone, as long as everyone uses it. But there are drawbacks to the MyRide card that will hinder widespread adoption and limit these system-wide benefits.
Speak up or get overcharged
Card validators on the bus will automatically charge riders the highest fare available on that route. If you're traveling locally on a regional route, it's up to you to tell the bus driver, who will lower the fare.
Adding money instantly is not convenient
Unlike, say, the DC Metro system, RTD won't have any kiosks at every rail station where riders can load cash onto the cards. To add to your balance instantly, you have to visit one of five RTD stations or certain Safeways. King Soopers may participate down the road, RTD spokesperson Nate Currey told Streetsblog.
Adding money online takes one to three days
The glossy envelope that MyRide cards arrive in markets them this way: "Load. Tap. Go." A more accurate tagline would be, "Load. Wait one to three days. Go."
That's because while loading money online is a nice new feature, the credit card transaction will usually take between 24 and 48 hours to process — 72 hours "on rare occasions" — according to the 20-page instructional booklet that comes with the card. Riders can thank obsolete technology resulting from the long, dysfunctional process that plagued the smart card project from the beginning.
There's a lag in processing your balance after you pay for a trip, too. While electronic card validators will show your balance after tapping MyRide, your online account might show a different balance, because RTD collects the data in bulk at the end of each day.
You can't use it for unlimited ride passes
RTD's day pass gives transit riders unlimited rides for the cost of two one-way fares — $5.20 for local trips and $9 for regional trips. But day passes are not available on the MyRide card.
In other words, if you use a MyRide card to take three local trips in a day, it would cost you $7.80, four trips would cost $10.40, and so on. At least the cards recognize free transfers for up to three hours on one-way trips, like paper tickets.
There's also no monthly pass available with MyRide, but RTD is working to change that, Currey said.
While the bulk discount of an unlimited pass isn't available, MyRide users do get a 25-cent discount per fare compared to paying with cash or paper tickets.