The Denver Post Likes Modern, Multi-Modal Streets in Theory, But Not in Practice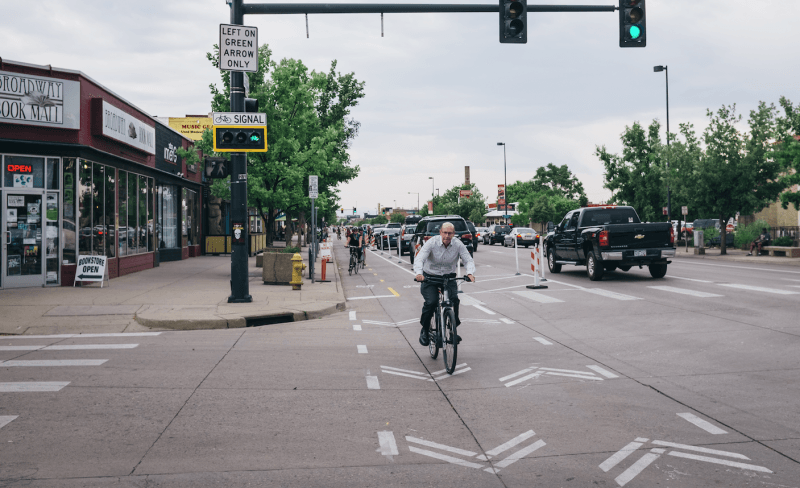 The Denver Post, the most influential publication in Denver, can't seem to take a position on what the city should do with its streets.
In its Friday editorial — "An Open Mind on Denver's Clunky Broadway Bike Lane" — the paper says it likes biking and transit projects in theory. But when confronted with a real-world example of multi-modal street design in action — the reconfiguration of Broadway to prioritize people walking, biking, and riding the bus — the Post turns sour.
Last year, Denver Public Works repurposed a half-mile of a southbound car lane for a two-way, parking-protected bike lane that should — eventually — stretch from I-25 to Colfax, and hopefully further north. A red, 24-hour bus lane and safer crossings for people walking around the bustling small business district are also in the works.
It's an incredibly important project that will enable more people to travel safely and efficiently along Denver's spine. The Post could have thrown its weight behind this model for modern city streets, but instead, the paper straddled the fence through the entirety of the editorial.
The lede was a grumpy admission that the newspaper's editors are "not fans" of the bikeway. The piece then muddles toward a weak conclusion, in which the editorial board, despite "misgivings," declares that it is "somewhat in favor" of the city's Denver Moves bike plan — which includes building more projects like the Broadway bikeway all over the city.
Here's a taste:
And, critically, we support the general direction the city is headed, emphasizing transportation, mobility and transit in the pending plan to ask voters to approve an estimated $800 million to $900 million in general obligation bonds funded with property taxes.
Okay, but who isn't in favor of "transportation" and "mobility"? These are generalities, not a specific direction the city can take. At least the editorial board also ventured an endorsement of "transit."
Of course, the way to emphasize transit is to repurpose streets so buses, walking, and biking take precedence. When it comes to specific projects that lessen dependence on cars, however, the Post casts them as "flashy" and foreign:
If the South Broadway bike lane is a microcosm of the big-picture debate occurring right now in subcommittees trying to set priorities for the bond money, we hope they can look past big flashy European-based transportation projects to see the need to fund deferred maintenance. We need to take care of the existing infrastructure before we build new.
Ah, so the American thing to do is underfund ongoing maintenance work in the regular budget and catch up with a burst of borrowing — until the city falls behind again. Now that's tradition!
Deep down, the Post knows there's a problem that requires a more fundamental shift:
Yet Denver must do something about the heavy traffic and parking problems that are only growing as this Front Range mecca booms.
How about "doing something" by moving more people in less space with transit and bicycle improvements? That's what the Broadway project is all about.
But to the Post, this real-world solution to Denver's traffic and parking problems is an annoyance to the people who matter — people in cars:
The design feels clunky, plopped on a busy thoroughfare to intentionally discourage commuters from taking this efficient cut-through from downtown to Interstate 25.
As far as the Post is concerned, "commuter" is a synonym for "driver." Forget about everyone who might be getting to work without driving.
DPW knows that the old, cars-first Broadway design discourages everything but driving. There's not one continuous route for people on bikes between downtown and I-25, let alone an "efficient cut-through."
Even with the bike lane, Broadway still has three lanes solely for cars. Since the bikeway's installation, rush-hour travel time has increased just 9 seconds for motorists. The Post acknowledges the slight traffic delay, but then urges "the city to focus the remaining months of their study on potential traffic impacts…"
Focusing on traffic impacts is what the city has done for too long. That just digs the hole deeper. It's time to focus on moving people, not cars, and creating a safe, efficient urban transportation system.
Apologies if this hurts the feelings of suburban car commuters, but, for once, this is not about you.