Showing — Not Just Talking About — the Dangers of Walking in Denver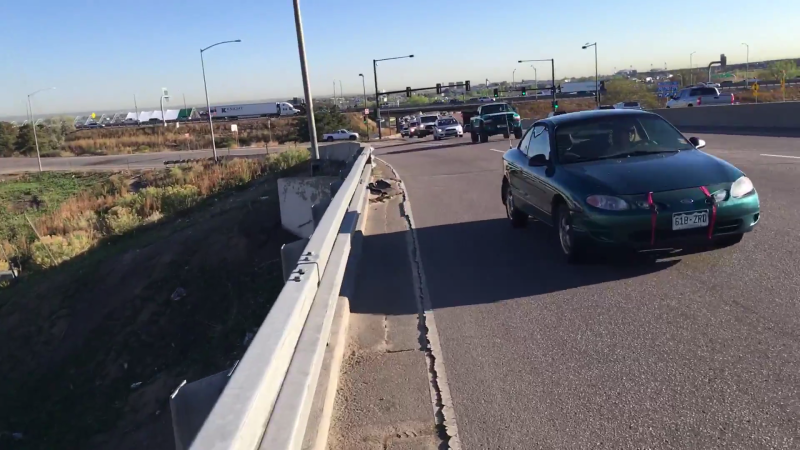 Jonathon Stalls, founder of Walk2Connect, a "worker-owned walking cooperative," wants those in power and the general public to understand the danger and indignity that walkers suffer just trying to get around the city.
Anyone who depends on walking to get around north Denver grapples every day with a hellish carscape along Quebec Street, which is not a street so much as a highway that connects Stapleton and Northfield — but only if you're in a car. Getting from one neighborhood to the other means crossing I-70, which is impossible to do safely and directly on foot.
Stalls documented the terrifying trek on Quebec Street, across I-70, so elected officials, Denver Public Works and Colorado DOT officials, and everyday residents could see just how dangerous it is — to get a taste of what Stalls calls "body knowledge."
"We have people who go into spaces talking about policies, and we need that," Stalls told Streetsblog. "We absolutely need focused intellect in how we move policy. It's just so clear, especially at a place like Quebec, that decision makers aren't experiencing what it's actually like."
If the powers that be truly understood, they'd empathize with a mother in a stroller, forced to choose between traversing speeding traffic or muddy slopes underneath Quebec, Stalls said, or the wheelchair user forced to use a winding, wayward recreational path to cross I-70 and a set of train tracks.
"Goat paths" or "desire trails" in the video prove that people want and need to walk around the area to reach practical destinations like the Central Park RTD station and grocery stores. But there's no infrastructure for them to do it safely and with dignity. In addition to walking on car-heavy roads or impromptu dirt paths, Stalls and Jeanette Fedele, a Walk2connect walking movement leader, take a terrifying stroll down the infamous Quebec Street slant.
"There's no paint, signage, something that says, 'We recognize you're here, and that you're trying to get across — that we at least see you,'" Stalls said. "We want to give people body knowledge to at least be a little closer to what vulnerable populations face, and the the message, that we as a public, communicate to vulnerable populations — that you're not welcome here. Period."
Walk2Connect, along with WalkDenver, will lead group walks aimed at showing decision makers — not explaining to them — what walking Denver can be like. It's called the iWalkDenver walking series and it's free to sign up. Stalls and company will tackle Alameda Avenue next, followed by Federal Boulevard, Colorado Boulevard, and Brighton Boulevard — all during rush hour.
"Working?" the website states. "Consider it professional development."