Denver Streets Partnership Calls on Hancock to Devote $40 Million a Year to Walking and Biking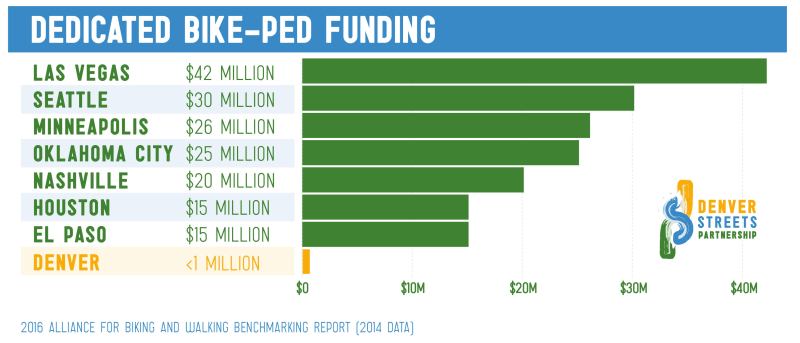 A new coalition of transportation advocates wants to combat the Hancock administration's habit of shorting biking and walking infrastructure while heaping taxpayer funds on road expansions.
The Denver Streets Partnership says the city needs to invest $40 million a year over the next 20 years to build out a 21st century street network. That means giving Denverites good options to get around without driving a car, via high-quality networks of sidewalks and bike lanes — promised but unfunded — that connect people to convenient transit. DSP asked Mayor Michael Hancock for as much in a letter sent to his office Tuesday [PDF]. The group also called for expanding the city's underfunded bike-share program, B-Cycle.
"People in Denver want better options to get around safely and they want to see pedestrian and bicycle networks funded and built at a faster pace," said Piep van Heuven, Denver director of Bicycle Colorado, which leads DSP.
Starting in 2018, $40 million per year would cover:
The full build-out of the Denver Moves Bicycles plan in 10 years
A complete, citywide sidewalk network in 20 years
An expanded B-Cycle network
Maintenance of walking and biking infrastructure
The Hancock administration dedicated just $5 million for bike and pedestrian projects in 2017, according to DSP. That's a drop in the bucket for a city missing sidewalks on more than a quarter of its streets. The Mile High City lags far behind cities like Las Vegas, Seattle, Minneapolis, and even Oklahoma City in dedicated bike-ped funding, according to a 2016 report from the Alliance for Biking and Walking.
Staffers from the Denver Vision Zero Coalition, WalkDenver, Bike Denver, Denver Cruiser Ride, and Denver B-Cycle are also members of the Partnership. After decades of neglect, they intend to make sure sustainable transportation gets a fair shake.
"This is not just about people who are hardcore bike enthusiasts or people who love to walk 40 miles a day," said Jill Locantore, associate director of WalkDenver. "This is just about Denver residents wanting mobility options. There's been a lot of advocacy about maintaining our road network and making it easier to drive, but there hasn't been unified advocacy around giving people good choices other than driving."
Where will the money come from?
We know that most Denverites bike, and most would support paying extra to improve the city's bike network. We also know that the public wants basic infrastructure like sidewalks. Yet elected officials have not seriously funded the city's longstanding bike plan, and have historically ignored sidewalks.
DSP sees opportunity in Denver's 2018 budget, as well as the citywide bond package heading to voters in November. Then there's the possibility of another ballot initiative down the road.
"No one particular source is going to deliver $40 million a year," Van Heuven said. "They can look at things like budget savings, they can look at things like fees. And there's always the potential of having a citizen-driven ballot initiative. So if you take all of those pieces, we know there are ways to put together a solution that puts us on track to complete our biking and walking networks in 20 years instead of 160."
It would also help if the upcoming bond steered away from road projects, Locantore said. "We're never going to make progress building out a woefully inadequate pedestrian and bicycle network if we continue to add road capacity," she said.
DSP reps say they'll keep the pressure on Hancock and City Council, but need the public's help, too. They want you to write council members and Hancock to request the funds Denver needs to catch up to other cities. They've made it easy for you with this template.