#StreetFail: 1st Avenue Sidewalk Not Big Enough For the Both of Us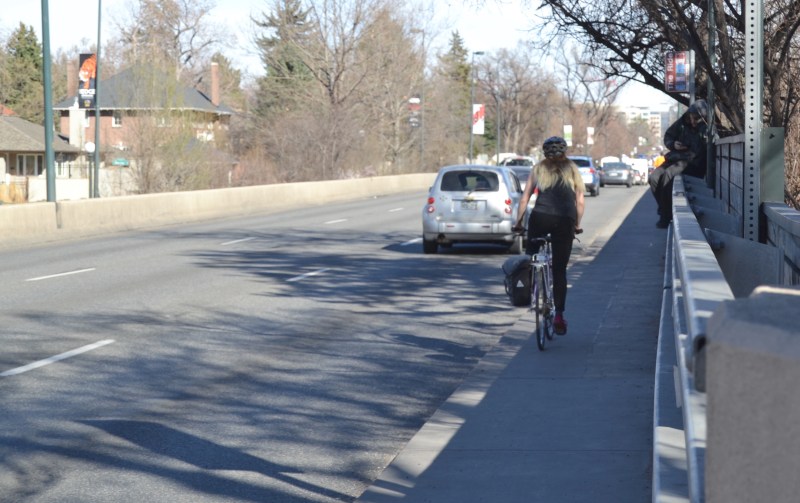 Here's a particularly dangerous strip of sidewalk on 1st Avenue between Downing and Lafayette streets.
This sidewalk is busy. It's part of a bike route that connects to the Cherry Creek Trail and Washington Park. As you can see, there's also an RTD bus stop. People walking, biking, and waiting for the bus are forced to dance past one another — right next to three lanes of speeding cars and trucks. There's just not enough room for people outside a car.
People behind the wheel have plenty of room, though, to build up a nice head of steam and reach dangerous speeds. There were 14 crashes here between 2012 and 2015, according to Denver's Vision Zero database.
There's a guard rail to stop drivers from flying onto the Denver Country Club golf course (and the Cherry Creek trail on another segment of the street). But if you're walking or biking, you are the buffer between the cars and the guard rail.
There are easy solutions: Narrowing the vehicle lanes to get drivers to travel at safer speeds while claiming some street space for a wider sidewalk, for instance.
You can drop a pin on this map and let Denver Public Works know this intersection (or any other one) is a threat to people's safety.
Got a picture or video of something that's making Denver's streets better? Worse? Share it on Twitter or Facebook with the hashtag #SweetStreet or #StreetFail, and we may share it on the blog. You can email me as well.