Are the Roads Working This Week? No.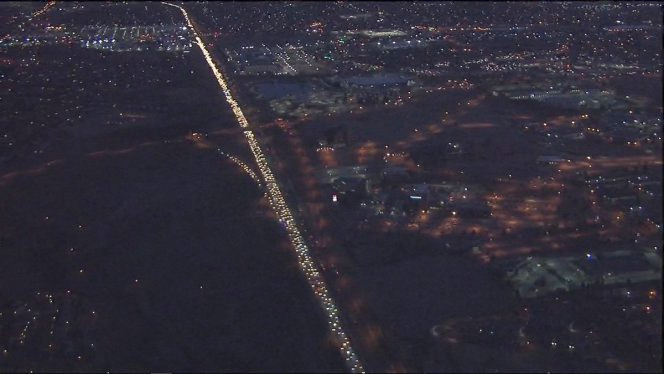 In this installment of "Are the Roads Working This Week?" we turn to Denver7 traffic reporter Jayson Luber's Twitter account. Luber keeps tabs on the morning driving commute every day. And just about every day, it seems, he has another case of bumper to bumper traffic to tell us about.
Luber's day starts early, when the freeways — designed to accommodate the busiest couple of hours in the day — are nearly empty. His daily tweets usually begin like so:
Quiet so far here in town with wide open freeways and no problems to worry about. pic.twitter.com/fgdPuI7pfL

— Jayson Luber (@Denver7Traffic) March 8, 2017
Later in the day, inevitably, Luber informs his followers that one crash has backed up drivers for miles.
And that is the backup behind the crash on SB 25 at 84th. pic.twitter.com/hsx7pzWT3G

— Jayson Luber (@Denver7Traffic) March 7, 2017
New crash downtown on SB 25 at Speer in the center lane. Looks minor but it is enough to nearly gridlock downtown. pic.twitter.com/xwJ5sdAMIL

— Jayson Luber (@Denver7Traffic) March 7, 2017
Sometimes the roads don't work well because the sun comes out:
SB 25 is already getting blasted by the sun making the University curve. Slow from Broadway to past Colorado. pic.twitter.com/sauQ19QJje

— Jayson Luber (@Denver7Traffic) March 7, 2017
Streetsblog started this series because of a double standard in Denver media that treats life-altering and traffic-inducing car crashes as the daily costs of doing business (not a solvable problem caused by policies that prioritize cheap driving). Transit snafus, meanwhile, especially on the A-Line, are treated as an indictment of an entire mode of travel.
Between Monday and Tuesday, the Denver Police Department investigated 118 traffic crashes that resulted in one death and 10 injuries. Many tears and traffic jams later, nobody has died or been injured using transit during that time. RTD's rail lines have experienced one notable delay this week, a 15-minute delay on the E-Line early this morning, according to RTD rider alerts. At least Luber gives some kind of props to transit:
Days since the A-line has been delay free….. rip another page from the number board…..4. https://t.co/Vm9kpdkSKL

— Jayson Luber (@Denver7Traffic) March 7, 2017
To submit an entry to the "Are the Roads Working?" series, email us or drop a note on Streetsblog Denver's Facebook or Twitter pages. Use the hashtag #CarsAreTraffic.