The R-Line Could Use More Walkable Development, But Freeways Make It Hard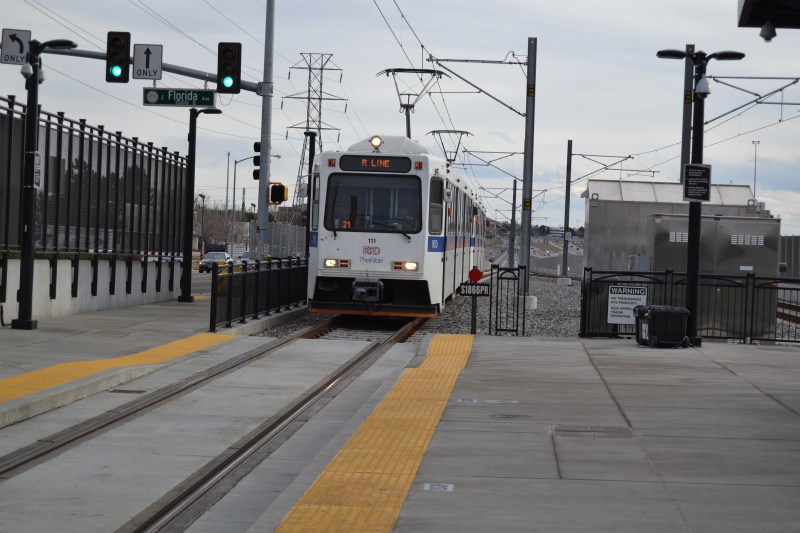 RTD's R-Line opened to the public last Friday, and while a new light rail route through Aurora is a positive step forward, it's also not without flaws. Some shortcomings are a result of decisions made long ago and will be tough to fix, but they can be remedied.
First, the basics: The R-Line completes a missing light rail link between north Aurora and south Aurora. It connects to the A-Line at Peoria Station and the H-Line at Florida Station, adding flexibility for people heading in the direction of either downtown or the airport. The R-Line's southern terminus is way down south in Lone Tree. It comes every 15 minutes most of the day, and every 30 minutes before about 6 a.m. and after about 8 p.m.
I rode the new Aurora line yesterday during afternoon rush hour. Here's what I found.
Most stations are surrounded by parking, not walkable development
Transit works best when stations are surrounded by walkable development — places where people live, work, and do business just a short distance away. If people can walk to the station, more people will be able ride, the system will be able to serve a wider variety of trips, and fewer people will drive to get around.
But like much of RTD's rail network, the R-Line covers a sprawling distance (22 miles) without always serving walkable areas. That's a result of decisions made long ago by RTD and local governments to build rail along freeways.
As a result, most of the R-Line's 16 stations (eight are new) are surrounded by parking lots, the I-225 and I-25 freeways, and/or other wide, arterial roads. Industrial warehouses, big box stores, and large swathes of open space also surround several stations, with single-family homes and business parks in the distance.
The R-Line's Fitzsimons Station serves the huge University of Colorado Anschutz Medical Campus with a free shuttle operated by CU. Colfax Station will serve the impending Veterans Administration Hospital, though the trek from the station won't be easy for everyone because the pedestrian infrastructure is not up to snuff. The sprawling shopping center near Aurora Metro Center is destined for redevelopment as well.
Aurora officials have zoned the areas around stations to attract walkable development. The R-Line corridor is expected to grow by about 39,000 residents and 37,000 jobs in the next 18 years, according to an RTD analysis. But where will they live and work? From the window of the train, some new mid-rise homes with ground-floor businesses are emerging near Colfax Station, but otherwise, evidence of transit-oriented growth nearby was scarce.
The easiest way to get to most stations is to drive
Adding to its reputation for putting cars first, RTD has no buses — none — serving the 13th Avenue Station (the CU shuttle is the only "bus" serving Fitzsimons). Only a few bus routes get riders to the eight new stations with service that arrives every 15 minutes or less at any point in the day. As with most RTD stations, surface highways and interstates around the stations make walking or biking to them unsafe and inconvenient, though some stations fall on a recreational trail network.
For the most part, parking a car is a piece of cake, as usual. There are 6,556 parking spots next to R-Line stations — about 1,800 of them built for the eight new stations. (Though in a rare move, the 13th Avenue, Florida, and Fitzsimons stations have no RTD parking lots.) If you're riding to the train, meanwhile, there are just 146 bike racks and 103 bike lockers at all the stations combined.
Intersections slow the train down
On my trip, the train made two stops where the tracks intersected with car traffic, adding up to about five minutes of delay. Giving the train priority at signals could shave some precious time off trips.
And every second counts. When transferring from the R-Line to the A-Line at Peoria Station on my way back downtown, I had to run to catch the train. Others missed the connection entirely, adding at least 15 minutes to their trip. It's true what Benjamin Franklin once said: "Lost time is never found."
This article was changed to reflect the fact that Florida Station has no RTD parking lots, not Colfax Station as originally reported.