BikeDenver Offers Free Membership to Grow Army of "Angelic Troublemakers"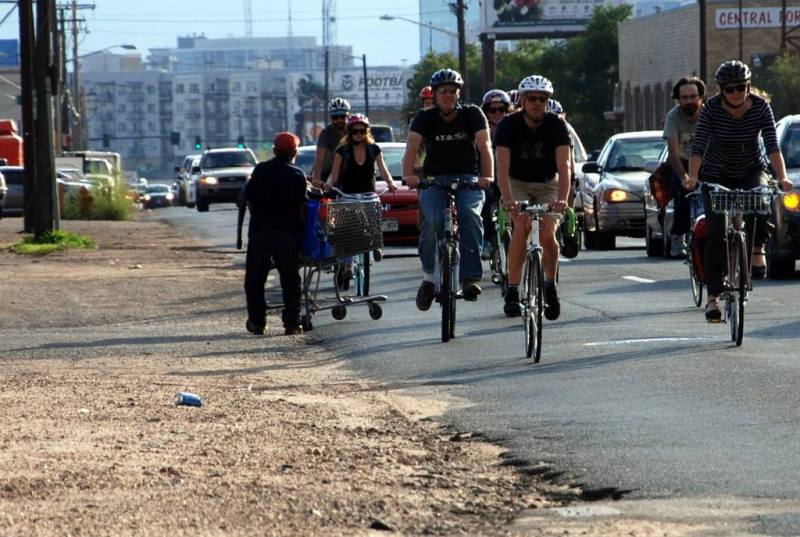 Those bike lanes around the city? They don't appear out of the ether. They take money and planning by the Department of Public Works. Yeah, they may not be perfect, but if we're going to build safer bike lanes, we'll need our elected officials to buck up and show some political courage. And that means we need strong grassroots advocacy from organizations like BikeDenver.
BikeDenver's staff and members are constantly making their case to city planners, engineers, and electeds — advocating for more and better bike infrastructure. In an effort to grow its base and strengthen its voice, BikeDenver will no longer require people to pay to join. A membership used to start at $25, but there's an option to join up for free (memberships still exist at the $50 and $150 level for people who want to support the organization financially).
"If you want to join us for free, come on in," says Executive Director James Waddell. "If you want to join us for $150, come on in. However you come on in, come on in. We're the Ellis Island of advocacy."
Waddell imagines an army of "angelic troublemakers" who speak up at public meetings and tell Mayor Michael Hancock, City Council members, and Denver Public Works that city streets need to work for people on bikes. He hopes BikeDenver can double its membership and increase its effectiveness by focusing more on advocacy and less on events, like providing bike parking at events.
Grassroots advocacy can make or break a bike project.
Take the Stout Street bike lane, which was supposed to be parking-protected for its whole length, until a few loud residents complained and Denver Public Works watered it down. What if a larger contingent of people had spoken in favor of it?
BikeDenver wants as many voices as possible to speak up for better bicycling. Staffers will "skill up" volunteers with training that helps them talk to decision makers effectively and keep them updated on public meetings and other happenings.
"We want to remind everybody that we're an advocacy and community-building organization, first and foremost," Waddell says. "We want more advocates. We have a lot of people who have signed up to be on our Facebook group, we have an email list, but we just want to go a little bit further than that. We want people to say, 'Hey, I'm an advocate, what do you need?'"
If you want to make Denver more bikeable but weren't quite sure where to start, here's a good first step: Go ahead and join BikeDenver.