The Fight to Stop CDOT's I-70 Widening Is Far From Over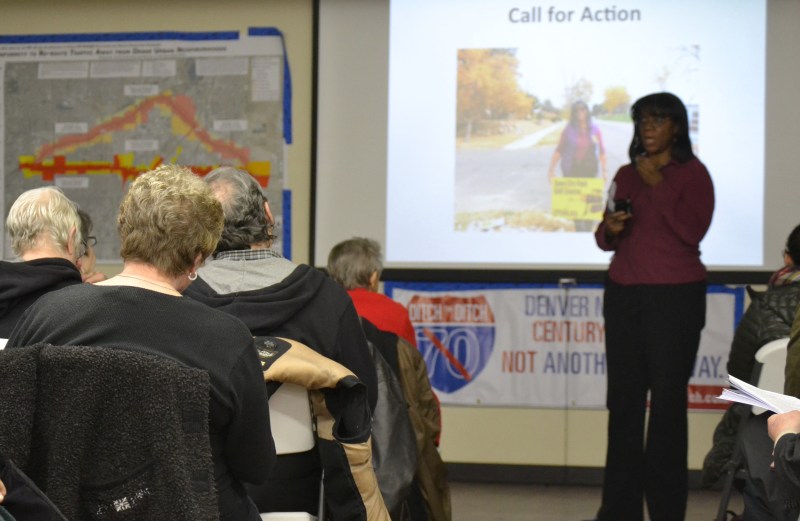 The Federal Highway Administration recently cleared the way for Colorado DOT to widen I-70 through the north Denver. But that doesn't mean it's a done deal.
About 130 people turned out for a town hall last night where advocates and City Council Member Rafael Espinoza reminded the crowd that displacing residents and businesses, inducing more traffic and air pollution, and disturbing a highly contaminated "superfund site" are not okay — even if Colorado DOT greenwashes the highway widening by building a park on top of it.
"This is not a done deal," said Thad Tecza of Unite North Metro Denver. "The only thing this record of decision does is start the clock for filing a National Environmental Protection Act suit."
UNMD and other neighborhood groups plan to sue over the Clean Air Act, on the grounds that Colorado DOT failed to study all alternatives "thoroughly," said Tecza, violating NEPA. He said CDOT never truly studied an important option: tearing down the highway in Elyria, Swansea, and Globeville, restoring the original street grid, and rerouting I-70 around north Denver to I-76, where far fewer people live.
Rerouting the highway would add 1.8 miles and a minute or two for suburban commuters and truckers bound for Kansas and Utah. So why not route the highway where people don't live, work, and play?
Because suburban politicians put up a fight, while Denver's mayors did not, Espinoza said.
"There's very good engineering, there's very good scientists involved that speak to the validity and the cost effectiveness of doing the reroute," Espinoza told Streetsblog. "And the only reason we're not doing that is because Adams County and Commerce City provided resistance, where the City of Denver, through the mayor… paved the way — through communities that have been disadvantaged.
"There is a far better solution for the state of Colorado, and the taxpayers here. But we don't have the political leadership, either at the statehouse in former mayor Hickenlooper, or with current mayor Michael Hancock, neither of whom are engineers."
In addition to the NEPA lawsuit, other paths of resistance remain in play. Advocates are waiting to hear whether a federal circuit court will hear their case against the Environmental Protection Agency over lax air quality standards. The city is also facing a lawsuit over a flood project tied to the I-70 ditch, which CDOT and the Hancock administration cornered taxpayers into paying for, because it might be an improper use of park land. And the FHWA, despite approving the project, has not released the results of a civil rights investigation into the project's impact on Latino and low-income residents, which could leave some wiggle room, according to attorneys at Earthjustice.
Anything that might stop the project is welcome, said Rudy Garcia, a North Side resident and longtime Chicano activist.
"These kids are gonna breathe that dust," Garcia said. "When the wind is blowing the wrong way, you can smell the stockyards, which means that same wind is gonna reach us and my organic garden, as well as the grass that my grandson plays on, and the kids in the neighborhood."