Anticipating a Big Year for Transit Expansion in 2017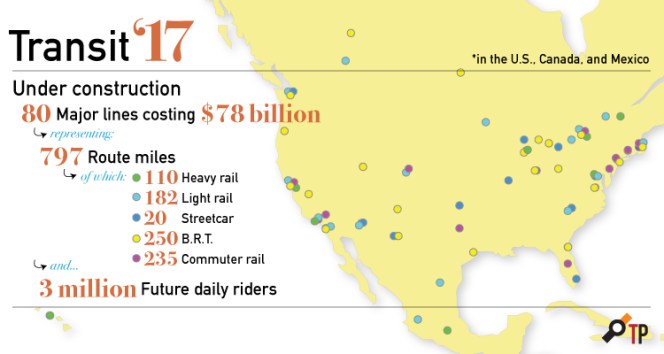 This year, about 80 major new transitways will be under construction across the U.S., Canada, and Mexico, reports Yonah Freemark in his annual roundup at the Transport Politic.
Momentum for transit expansion is especially strong at the local level. In November, voters in several American cities approved transit packages that will significantly expand their bus and rail networks.
But the election of Donald Trump and Republicans' continued control of Congress have also injected some uncertainty. At her Senate confirmation hearing yesterday, Trump's nominee to lead U.S. DOT, Elaine Chao, would not confirm that she would approve federal funding for projects that are already in the pipeline.
This year, at least, momentum will carry forward and we'll see substantial progress, says Freemark:
Despite the concerns about changes in Washington, 2017 will be a big year for new transit expansions. San Francisco's BART and Toronto's TTC heavy rail systems will both be extended. New light rail lines will open in Charlotte, Denver, Guadalajara, and Monterrey — as well as new streetcars in Detroit and St. Louis. And new bus rapid transit routes will serve customers in Albuquerque, Fresno, Oakland, San Jose, and the Chicago suburbs.
Moreover, construction is set to begin on some game-changing investments in a number of cities. Montréal's REM project, notably, will by 2020 or so provide a brand-new, 42-mile automated heavy rail network that will double the city's metro system. Indianapolis will invest in the country's first electric bus rapid transit line. And the Caltrain system will be electrified to provide more frequent, faster trains. These are important and beneficial improvements…

Whatever the environment for expansion, the future of transit in the U.S. is threatened by deeper problems having to do with the economy as a whole, as well as low gas prices. Since mid-2014, the number of vehicle-miles traveled in the U.S. has skyrocketed, meaning people are driving more than they ever have on American roads. At the same time, transit ridership for most agencies around the country is declining.

What is unquestionable is that spending on new projects — despite the glitz associated with them (and the attention they get on this site and others) — is not adequate to support increasing transit ridership. More must be done to make transit more appealing, and alternatives less so.
What we're also reading today: Strong Towns writes about the impact of infrastructure maintenance backlogs on cities' finances. And Transportation for America notes that yesterday's confirmation hearing for Chao didn't address the big transportation policy questions facing the country.