Making More Room for Cars Is Exactly What Federal Boulevard Doesn't Need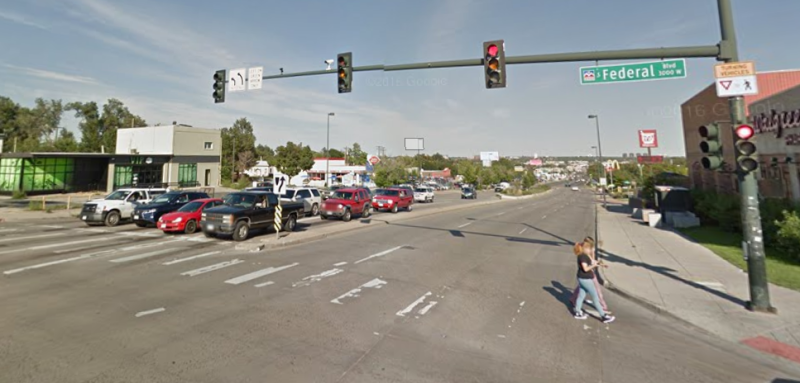 Crossing Federal Boulevard on foot is a small act of death defiance. It's wide, it's fast, and in 2015, drivers struck and killed four people walking on the street.
Federal is the type of street Denver should have started redesigning yesterday in order to reach Mayor Michael Hancock's stated goal of eliminating traffic deaths. But even as nearby neighborhoods prepare to absorb more residents, the city is still prioritizing car traffic at their expense.
A recent Denverite article highlighted all the private and public investment anticipated for neighborhoods near Federal like Sun Valley, where denser development is expected to transform the area. Denver Public Works and Colorado DOT would have you believe that the way to plan for that growth is by making it easier to drive.
Reports Denverite's Adrian D. Garcia:
The city of Denver is expected to start traffic improvements on the boulevard in the fall. The goal is to make the stretch from West Seventh Avenue to Holden Place safer and more accessible for drivers and pedestrians who live in the nearby communities, said Heather Burke, city spokeswoman.

Planned improvements include adding a third northbound lane between West Seventh and West 10th avenues, a raised median along the corridor to improve mobility and safety, and sidewalks improvements for better access to public transit options.

"Adding a third northbound lane, as well as making other multimodal improvements, will keep commuters moving along the corridor safely as Denver's population continues to grow," Burke said in an email.
Stop right there. As long as the city is widening streets for cars, "other multi-modal improvements" are just window dressing. The added lane is going to generate more traffic, more speeding, and a more hostile environment for walking.
The article continues:
Some of the new commuters in the area will include the more than 600 employees expected to work at CDOT's planned headquarters at the northeast corner of Howard Place and Federal Boulevard.

The new facility could cost up to $48 million to develop and is expected to include a 175,000-square-foot office and four-story parking garage that will be shared with the nearby Mile High Stadium on game days, said Stacia Sellers, CDOT spokeswoman.
There you have it — a wider roadway and a parking garage are going to anchor change on Federal Boulevard.
This is the same mindset from Colorado DOT and Denver Public Works that shaped Federal into a cars-first disaster in the first place. The results have been disastrous.
In 2015, drivers hit 28 people walking on Federal Boulevard, killing four of them, according to city data. The street is notorious for drag-racing, and some segments are missing sidewalks. Buses average 6.3 mph during afternoon rush hour. People have to cross between 78 and 96 feet of traffic to get to the other side, and often have to walk a half-mile to find a signalized crosswalk. About 45 percent of Federal's sidewalks butt right up against traffic, with no buffer. Officials don't even want people biking on Federal because it's so dangerous.
During the planning process for the Federal Boulevard project, DPW and Colorado DOT shrugged off suggestions from the public to make the street safer for people to cross the street, a huge disservice to everyone who already walks there. Federal is home to two high schools, two universities, health centers, supermarkets, innumerable restaurants and stores, and a mix of apartments and single-family homes. It's the city's second-busiest transit corridor and gets a ton of foot traffic.
Even with more people on the way, the city has not progressed beyond car-centric planning along this important corridor.
Better ideas can be found in Denver Public Works' "vision" for Federal, but even that document aims low, is purely conceptual, and completely unfunded.
Meanwhile, construction to widen Federal Boulevard starts this fall.