It's Time to Vote for the 2016 Denver Streetsies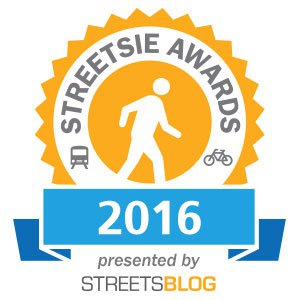 There are plenty of reasons to say good riddance to 2016. Before we do, it's time to vote for the 2016 Streetsies, Denver edition.
This year our country elected a president and administration that could be outright hostile to sustainable transportation and to the American cities that depend on it. As Donald Trump signals he will go along with eviscerating transit while ignoring climate change and deregulating big oil and gas, it's even more important that Denver act locally to make transit, walking, and biking the cornerstone of its transportation system.
To an extent, Denver's decision makers are trying to do just that. They've come around to thinking about the Mile High City as a growing, modern metropolis that can no longer afford to plan around automobiles. Despite a lot of rhetoric, it's a slow-turning ship. Denver's national reputation as a first-class transit city, for example, is undercut by cold, hard facts: Fewer people use transit now, and more people drive, than they did in 2000.
The Streetsies are a way to remember the year that was, but also a way to track progress. So vote on the projects, policies, and other happenings — good and bad — below. (Head over to Streetsblog USA for the national Streetsies.)
Happy new year and happy voting!
Best Street Transformation
Loading ...
Most Egregious #StreetFail
Loading ...
What Denver Should Be Most Embarrassed About
Loading ...
What Denver Should Be Most Hopeful For
Loading ...
Biggest Deal for People-First Streets
Loading ...
Worst Deal for People-First Streets
Loading ...
Most Absurd Media Takes on Urban Streets
Loading ...