Sneckdowns: Nature's Way of Showing Denver Where to Calm Traffic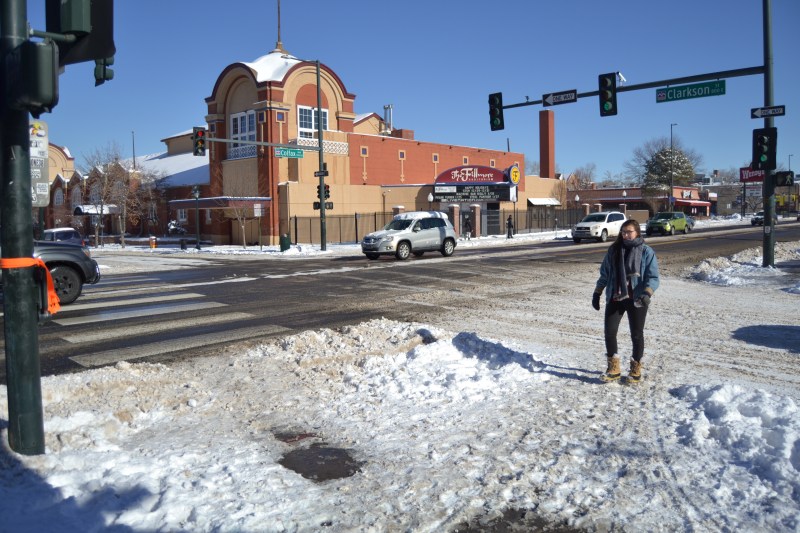 It's that time of year when Mother Nature shows Denver how much street space is wasted on moving motorists quickly, at the expense of keeping pedestrians safe.
It's sneckdown time.
That's "snowy" plus "neckdown." If you've never heard of a neckdown, it's a traffic-calming technique that extends sidewalks at street corners, making drivers take turns more carefully and shortening the crossing distance for pedestrians.
As drivers traced paths through snow after this weekend's storm, a lot of asphalt remained untouched. The remaining white stuff is visual proof that there's plenty of unused space traffic planners could repurpose for pedestrians — especially at intersections. Think of sneckdowns as snow-built versions of the great pedestrian upgrades at 17th and Wynkoop, which Denver Public Works redesigned last year.
The photos in this post focus on East Colfax Avenue and other parts of Capitol Hill, as well as the 16th Street Mall. Check out sneckdowns from other parts of the city in earlier posts, and stay tuned for more as winter progresses. Here are your first documented Denver sneckdowns of the season.
Have photos of sneckdowns? Share them on Twitter or Facebook and we may run it on the blog. You can email me as well.