21st Street Pilot Project Will Put the "Square" in Arapahoe Square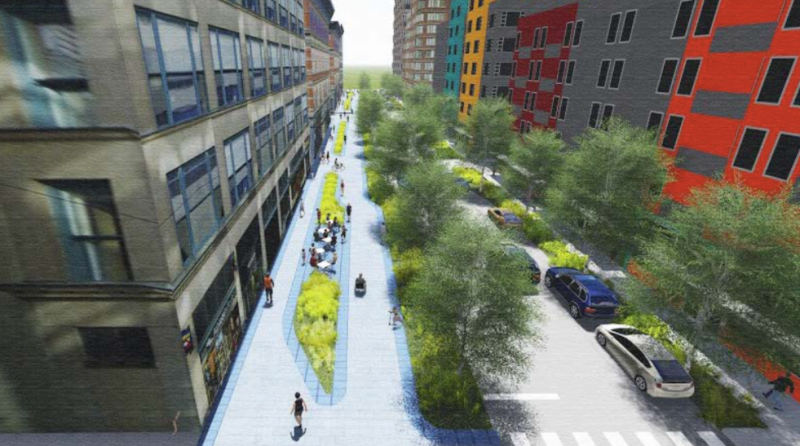 Next summer, Denver Community Planning and Development will temporarily transform the block of 21st Street between Lawrence and Larimer to prioritize people over of cars.
The pilot could make a block of 21st car-free altogether. CPD studied traffic flow in the area during Oktoberfest, which closed 21st to cars, and everything went well. "It's such a robust grid that you can close one block and there's no real flow disruption," said project manager Steven Chester.
The pilot, which will last up to two months, is a major step toward the permanent redesign of 21st and Wynkoop streets, which residents and city planners envision as a biking and walking route akin to the Indianapolis Cultural Trail.
The area clearly needs to be more welcoming for people. About 5,600 people walk Larimer Street on Rockies game days, and just a few hundred fewer walk it on an average weekday, CPD found.
The best public spaces are inclusive, catering to all kinds of people, but only 30 percent of people who frequent the area are women, according to CPD pedestrian counts. Only 1 percent are kids, indicating the area isn't inviting to families.
"We spent a better part of last year working on an urban design plan on what 21st Street and also Wynkoop Street could be like if they were signature streets for downtown," Chester said. "Essentially taking our right of way, our streets, our land that the city owns, and re-imagining it as places that are beyond what we typically think of as streets — places for cars and movement — but actually a place for people to congregate."
The idea is to seed the street with things that encourage human activity. At last night's meeting, CPD collected feedback from about 40 residents about what those activities should be.
The top requests were places to eat and drink, like food trucks and streetside seating; plantings, including shade trees; interactive art; and a flexible event space for concerts or exercise classes, for example.
"Something I've really stressed internally, but wanted to see what the community came up with, is putting the 'square' in Arapahoe Square, having a central gathering place for the neighborhood," Chester said.
Looking beyond the pilot phase, the final loop design will likely include re-purposing parking spaces and/or driving lanes for safe walking and biking paths. One option for 21st and Wynkoop would be to create "woonerfs," streets where cars are allowed at slow speeds but people clearly take precedence.
With the elimination of parking minimums in Arapahoe Square earlier this year, the Downtown Denver Partnership's commitment to the loop, and this pilot, things are looking up for people who walk and bike in and around downtown.