Where to Make Your Dollars Count for Better Streets on Colorado Gives Day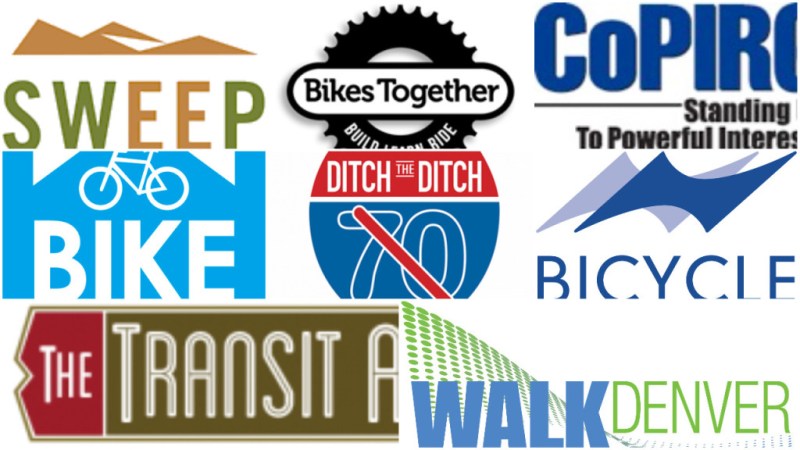 Today is Colorado Gives Day, an annual day of giving to causes that improve Denver and the Centennial State.
Denver is home to plenty of nonprofits that work hard to make transit, walking, and biking better. Streetsblog Denver is one of them — and a donation is much appreciated.
Part of Streetsblog's job is also elevating the voices of advocates who work in the sustainable transportation space, so here's a list, in no particular order, of places where your tax-deductible donation will lead to progress on Denver's streets.
WalkDenver's small but highly effective staff pushes City Hall to "make Denver the most walkable city in the country." It advocates for pedestrian-first policies like citywide sidewalks and advances walkability with grassroots organizing and education initiatives like Project Shift. WalkDenver is also the lead for Denver's Vision Zero Coalition.
Transit Alliance helps people become more effective activists and shapers of transit policy. Another small yet influential organization, Transit Alliance originated from the effort to pass the regional transit measure known as FasTracks. Now it focuses on "empowering our citizens to become our future leaders in the region," in part with its Citizens Academy.
Through the Sierra Club Foundation, Ditch the Ditch is raising money to continue its legal fights against CDOT's unjust, unhealthy, and unnecessary expansion of I-70. The fight is winnable, no matter how much CDOT would like to convince people otherwise.
The statewide bicycle advocacy organization hired a director to focus solely on Denver this year. Its staffers sit at the table with CDOT, state legislators, Denver Public Works, and Denver City Council to represent the interests of people who bike. They also put on events to promote bicycling as a way to get around.
BikeDenver is the city's independent advocacy organization for better bicycling. Its staff keeps an eye on city decision makers and works with them to expand Denver's bike network. BikeDenver also holds events throughout the year to get more people riding.
Colorado Public Interest Research Group (CoPIRG)
CoPIRG has been an outspoken advocate against widening I-70 and for transit, biking, and walking. The organization uses detailed reports to make the case for investing in and planning for sustainable transportation.
Southwestern Energy Efficiency Project (SWEEP)
SWEEP advocates for energy efficiency in Colorado and neighboring states, and that means making Denver and Colorado less car-oriented. SWEEP has fought CDOT's I-70 widening with data that poked holes in the agency's rationale for the freeway expansion.
Bikes Together supports "healthy and active living by increasing access to bicycles, promoting safe and bike-friendly environments, and advocating for policies that promote bicycle access and use." Most notable are its nonprofit bike shops, where kids and adults can earn a free bike by working in the shop with experienced mechanics.
The Denver Cruiser Ride gets people riding bikes, plain and simple. On any given summer Wednesday, you'll see a crawling group of cruisers costumed in whatever that week's theme may be. It's bike advocacy through the good old fashioned fun of a bike ride.