Meet James Waddell, the New Executive Director of BikeDenver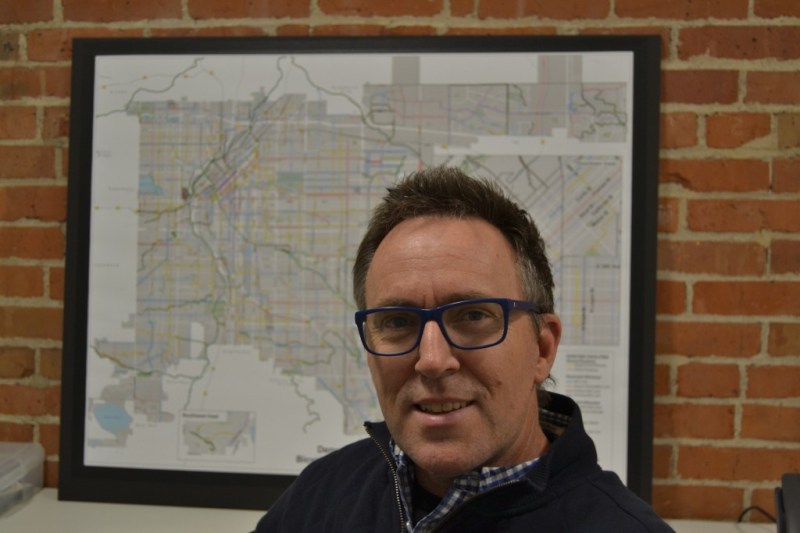 It's been a while since BikeDenver had a full-time leader at the helm. But after a nationwide search, the bike advocacy group has hired a new executive director from right here in the city: James Waddell, who was most recently executive director of Boulder B-Cycle.
I spoke to Waddell recently to about BikeDenver's role moving forward, in a city with an appetite for new bike infrastructure but which sometimes needs a nudge.
What is BikeDenver's role in the city with you at the helm?

To be quite honest I'm still figuring it out. We still need to be this independent, local bicycle advocacy group. What that means and how that looks is probably a little bit fluid right now. Obviously we've had a gap in the leadership role for the last many months, which has probably caused other entities around town to maybe question our relevancy, our future. It's a valid question, and I wish I had a really solid quick answer for you.
But I do think, given where we're at in the evolution of Denver, we're experiencing quite a growth spurt. I think at times like this it's really imperative that there are independent grassroots organizations that can represent the voice of people, bicyclists, to remind the people who are making the decisions about how the city grows and how it's planned to make sure that they don't forget everybody in all modes of transit.
You stress being an independent organization. What's the value there?
I think an independent organization is not beholden to any special interest groups or political persuasions. So I think regardless of who is in power locally and at whatever levels of government, that an independent group always remains independent. And that way I think you have that credibility when you're having a conversation with a decision maker.
What's the biggest issue you see with Denver's bike network?
It's not connected. It's not a grid. And I think the people who've been in this space for a while know that, and sometimes when something is a "too big" or "too hard" issue, we might sort of take our eye off that goal to go somewhere where we might have a small win. If we just focus on one, we might take our eye off the ball and take pressure of the people who are allocating the dollars to build the network. If the road system were this disconnected, people would be up in arms.
So we have to find a balance between people being disgruntled enough to speak up and be part of the conversation that we're promoting, and this sort of complacency of, "Well, we're bikers, we'll put up with it." Obviously if we have more people riding bikes, we have more influencers and people talking about it and things happening.
What do you want to see happen?
I'd like to think that the city could sort of look at the grid and say, by our estimation, it's 50 miles more of protected bike lanes that need to be built. I say, well, okay, if you do that over a five year period that's 10 miles per year and it costs X amount of dollars. I think you can bite off pieces of it incrementally. But I think there needs to be an end date that people commit to, where we're gonna get X amount done.
How will you work with decision makers on bike infrastructure and policy?
We need to be able to push when pushing is needed, but we also need to be able to support the people who are working for the agencies, whether it be the city or RTD or any of the agencies. Because the people who work for them don't necessarily get to make those decisions. We have to remember that, because the shame game and bashing the people who are city employees, it doesn't get you anywhere. That's journalists' job!
How will you make sure BikeDenver's voice is strong enough to counter things like watering down bike lanes?

It's definitely something that I need to get up to speed with really, really quickly. I definitely feel the sense of urgency around us re-establishing our presence, putting our flag in the sand. I just want people to know that if people are talking about bikes, whether it be safety, infrastructure, or funding, that people think of BikeDenver. That's my job. How we get there, I'm still working on it. I feel like we need to be thought of as that group, not just by the usual suspects. My challenge would be for our name and reputation — the awareness of who we are — to be spread wider among the community. Not just geographically, but demographically, socially.
So you want to broaden BikeDenver's reach.

The "8 to 80" concept that Gil Peñalosa talked about really resonated with me. I have an 8-year-old son, and my parents are 80. They don't live here, but if they did, I would be going to meetings and thinking in every aspect, would this work for my kid and would this work for my mom and dad? And that to me is not focusing specifically on any one small group, or what you might want to call sectors of people. I think [transit expert] Jarrett Walker said the same thing — if you start thinking and designing with small groups in mind, you're gonna miss. So hopefully I can continue to have that broader view of the city and who we represent. I'm sure we get pushed pulled in different directions, and that's okay.
What's next?
We really need to expand our representation. And that's not a knock on who we are right now, it's just kind of an evolution of our organization. We've gotta get all those people here, we've got to get them to be part of our advocacy voice. Because if I'm meeting with the mayor, the perception of the strength of our voice is gonna be important.
I think from a high level view, there's a bond initiative coming up next year. I'd be remiss not to be a part of that conversation. Because we can do a lot of education programs, we can do a lot of outreach programs. We can do ciclovias, we can do a lot of programmatic work that raises the awareness of the needs of bicycling. But at the end of the day, if we have more protected and safe bike lanes, we will have more people riding and those people will be safer, which is really what we're about.
It's pretty simple.
Yeah. And when you're an executive director of a small nonprofit, you can get caught up in sort of justifying your existence and focusing on tangible wins. And I get it, and that's great, and we're gonna do those. But I think as an executive director of a program, I gotta keep my eye on the ball. I gotta keep going to meetings with Public Works, meet council members — I have to be in that world. I have to be able to be at the table when decisions are being made. Or if I'm not at the table, people who we represent are not being considered.
Have a great Thanksgiving everyone. Streetsblog Denver will be offline for the holiday and back publishing on Monday.