Office Tower Puts "People First" With 13 Levels Dedicated to Storing Cars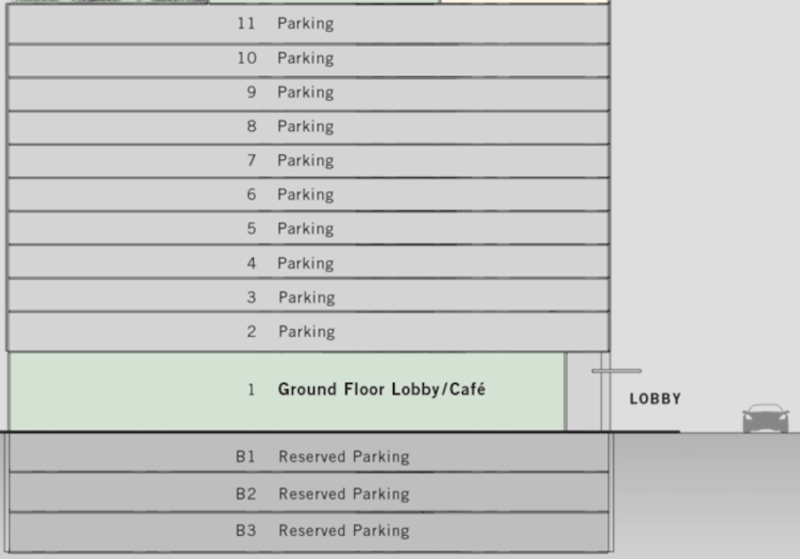 Let's talk about Block 162, the latest high-rise garage. It's a 32-story office tower that will eventually sit next to the light rail station at 16th and California, a very short walk from the 16th Street pedestrian mall and free RTD shuttles that run every 90 seconds. You'd think the developer would opt for a design that fits with a transit-accessible, walkable location. You'd be wrong.
Instead Block 162 will have more than 1,200 parking spaces. That's 13 levels (three underground) dedicated to storing personal automobiles. A tower like this flies in the face of Mayor Michael Hancock's stated goals for the city, like having no more than 60 percent of commuters driving solo by 2020.
On its website the developer brags about the building's "more than generous" (read: more than necessary) parking ratio. Here's more from the Houston-based company, which claims to have downtown Denver figured out:
In the new downtown Denver, people come first, having traded commutes for community. Here, lives are lived more by choice than by chance. At the center of this new reality is Block 162. Stunningly simple. Simply stunning. A building design so efficient and inspired it brings a new era of smart sophistication and style to downtown.
Nothing says people-first and smart sophistication like 13 decks of car storage pumping traffic onto the streets.
For every 1,000 square feet of rentable space, developers will build two parking spots. That's way more than new or planned office buildings nearby, per 1,000 square feet:
The Triangle Building – 1.01
16 Chestnut – 1.02
1144 15th – 1.27
1401 Lawrence – 1.28
1601 Wewatta – 1.33
It's stylish in an increasingly desirable Denver to complain about congestion while simultaneously demanding an immense amount of parking. But all this new parking will be a huge source of traffic. If projects like Block 162 continue to rise, so will the number of cars and the amount of congestion. In other words, if you build it, they will drive.
A nod to DenverInfill, which profiled the development this weekend.