Vote for the Streetsblog Denver Streetsies, Donate, And Maybe Win a Bike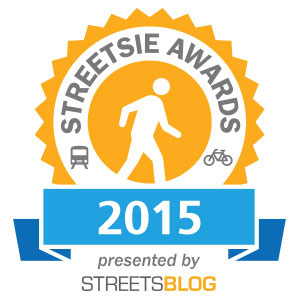 Closing the curtain on 2015 means yielding the stage to the first Denver installation of the Streetsies, our annual readers' choice awards of distinction and notoriety.
What has defined Denver's streets in 2015? What are the most considerable steps toward the transportation transformation necessary in the Mile High City, and who is standing in the way?
It's been a year change for Denver's transportation landscape. As Denver grows, so do the number of people who want to walk and bike safely instead of dodging traffic on car-dominated streets. Some decision makers are beginning to view the city's streets as places for people rather than one-dimensional speedways for cars.
There's a long way to go before Denver's streets catch up to the need for safe walking and biking and effective transit. That's why Streetsblog Denver exists — to hold decision makers accountable so that safe, complete streets are the prevailing approach to transportation rather than a soundbite for the nightly news.
Streetsblog Denver relies on financial support from readers who value our independent reporting. Consider making a year-end, tax-deductible donation and you could win this awesome Tern folding bike.
Have fun casting your votes below. Polls will remain open through the night of December 29 and we'll report the results the next day. Happy New Year from Streetsblog Denver.
Best Livable Streets Victory
Loading ...
Best Complete Streets Project
Loading ...
Most Egregious Affront to Denver streets
Loading ...
Most Absurd Take on Urban Streets
Loading ...
Project With the Brightest Future
Loading ...
No donation is necessary to win the bike.