CDOT's Bhatt: "We Are All About Alternative Modes of Transportation"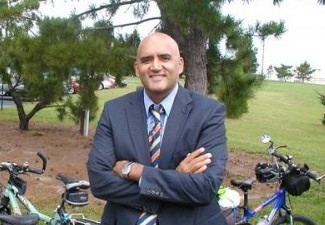 Yesterday the Transit Alliance held its annual Transit Event, which honored advocates, lawmakers, and companies from the world of transit, walking, and biking. RTD Interim General Manager Dave Genova was a lock for the keynote address for obvious reasons, but the other speaker was a less obvious choice: Shailen Bhatt, executive director of the highway-inclined Colorado Department of Transportation.
Since Bhatt took over CDOT in February, he's done some good things. He launched Bustang, the state-run regional bus service, and committed 2.5 percent of his construction budget to biking and walking infrastructure (granted, after a windfall from lottery proceeds).
He's said some good things, too. "We can't build our way out of congestion" is a common refrain of Bhatt's, which he repeated in front of more than 400 people at yesterday's event. Streetsblog Denver has questioned whether that mentality will win out over bad projects already in the pipeline, and if CDOT will take responsibility for deadly urban state highways like Colfax and Federal. Yesterday Bhatt said he was open to "discussion" about making these streets more multimodal, but stopped short of any commitment.
From his speech (condensed):
We're all about mobility. We're all about alternative modes of transportation.

When I was in Delaware, Streetsblog named me one of the top 10 visionary bureaucrats of the year. And here, they say, "Look at nasty CDOT, widening Federal Boulevard." So I'm open to that conversation. There's always this struggle right? It's a highway that when you go to certain people, they always say, "We want to move 50,000 vehicles through here. We need high speed." And then you have a lot of folks who are like, "We're killing pedestrians and it's not safe for cyclists."

I had someone ask me an we narrow Hampden Boulevard from 12 feet to 10 feet to provide a bike facility on this roadway. In here, I think that's a great idea. But I would never let my family cycle on a roadway that is a state highway with distracted drivers and trucks with nothing but a white line separating them from disaster. So I think we need to have the conversation.

I am a big proponent of transit. And actually I'm a big proponent of anything that produces mobility for people. So I'm somewhat agnostic when it comes to how we move people.

Transit doesn't turn a profit. I think that the best transit agencies that I'm aware of that are out there have a fare box recovery around the 50 percent mark. But turning a profit, while it would be nice, is not the reason why you provide transit. Not everybody can go out and buy a car. And most importantly now millennials don't want to buy a car.

When I turned 16, a brand new car was freedom and my connectivity. Now, kids these days see this as a depreciating asset that they have to insure, that sits in their driveway 97 percent of the time. So why would I spend a bunch of money on that when my connectivity is through my phone? And if I really need to get a car I'll use a car2go.

So the world is changing. And the other thing I would say is that most of the people who make decisions about transit, generally in this country, don't rely on it to get to a job, to get to see family, to have the freedom of mobility that a lot of us take for granted. And so for all of those reasons I think that we need to keep pushing on this.
Without committing to any specific street improvements or timetables, it's hard to knight Bhatt a savior for urban streets. But as the head of a state DOT that has traditionally focused on moving cars, his stated aspirations are promising, and something to which the public can hold CDOT accountable.