Rent Your Neighbor's Car and Ditch Your Own, Says Startup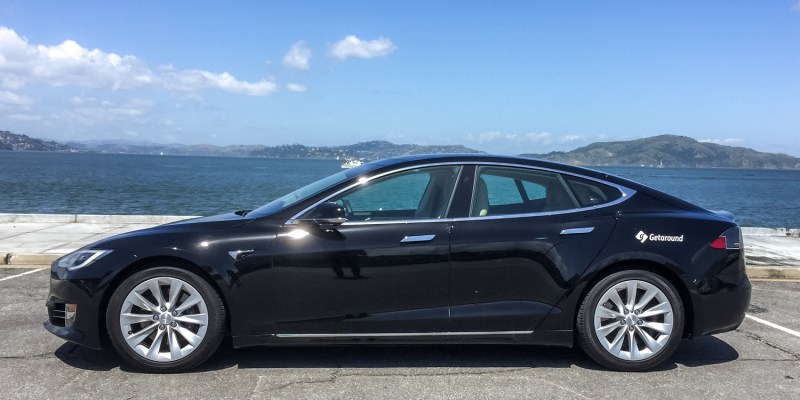 Today, Getaround, a car-sharing service that allows people to rent their neighbors' cars, launched in Denver, offering another mobility option that could help more people live without a car.
The San Francisco-based company offers a mobile app that allows you to see vehicles available for rent on a map, ideally within walking distance from your home or office. From a pet-friendly Prius to a well-worn pickup truck or a brand-new Tesla, the service enables you to book, rent and unlock vehicles instantly without a key.
In Denver, Getaround will compete with Turo, a similar peer-to-peer car-sharing company, and traditional car sharing services like eGo, Car2Go and Zipcar.
"My thought process when I moved to Denver three years ago was, 'Well I need a car so that I can go camping and go up to the mountains,'" says Zach Houck, general manager of Getaround's Denver office, who owns a car with his wife.
Many couples in central Denver own multiple cars, he says, but they may not use both every day.
"You have people that own cars specifically so that they can run errands or go to the mountains," says Houck. "The majority of that time the car is sitting there on the street being unused."
In Denver, the company plans to offer vehicles with ski racks and four-wheel drive. But shorter, same-day runs, to places like Target and Home Depot, make up most  trips the platform facilitates in the 90 other cities where Getaround operates.
The company says it can help people give up owning a car, an assumption it extrapolates from a 2010 study from the University of California, Berkeley. The study found that for every car-sharing vehicle, 10 cars are taken off the road. From this, the company concludes that when there are more Getaround cars, road congestion will diminish.
"It's a tangible impact on what traffic starts to look like in your city," says Houck.
But the study focused on the first generation of car sharing, where cars are stored at specific locations and require advance booking. Compared to those services, Getaround and its well-designed app make it simple for people to get into a car.
The company's own selling points may contradict its claims to alleviate traffic. With Getaround, those lightly used vehicles sitting on the street will end up driving more miles. And the people who give up owning cars may continue to spend significant time on the road thanks to how easy it is to use services like Getaround and Uber.
Houck counters that idea, arguing that after people give up cars, they become more willing to consider other modes of transit.
"It starts to open up a new way of thinking, of navigating your city without having to actually physically own a vehicle," he said before mentioning that people here embraced Jump bike sharing and Lime scooters. "This also works very complementarily to public transit."
In San Francisco, where I was an occasional user of Getaround, I searched for a for a trip from 9 a.m. to noon today. I found more than a dozen vehicles available within a 10-minute walk of my old apartment, with options ranging from a 2003 Smart car for $16 to a 2015 BMW 3-Series for $25.
The company insures each vehicle for $1 million, which covers any damage to the owner's car and provides renters with liability insurance.
In San Francisco, the number of nearby vehicles makes the service worth using. But Houck and his team have a lot of work to do before Getaround has the critical mass needed to offer the same level of service in Denver. This morning when he flipped the switch to activate the app here, fewer than 20 cars were available in all of Denver.
"We expect over the coming weeks and months to have a much higher saturation of cars," he says. The company will first focus on offering cars in downtown and central Denver before expanding to other areas. "We're steadily ramping up right now."