Denver Vs. Seattle: How Our Pacific Northwest Peer Adds People Without Adding Traffic
Seattle's transportation brass will share a stage with Denver decision-makers at next year's Moving People Forward conference.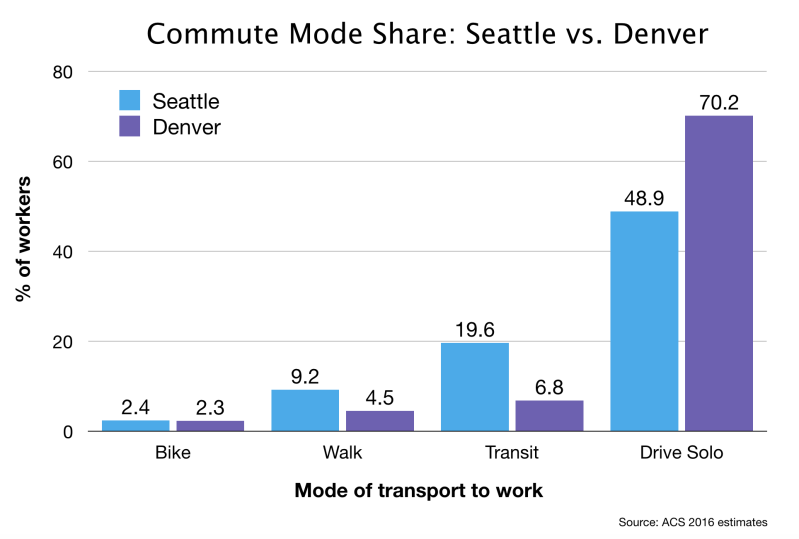 Denver should look up to Seattle, a city where decision-makers are reshaping streets in a way that prioritizes transit, walking, and biking before driving, and invests heavily in sustainable transportation.
The result is a city that has grown at a similar pace to ours, but has done so without adding traffic.
Not so much here in Denver. While our newer residents probably arrive with a car, Seattle offers plenty of options to live without one. A ghastly 70 percent of Denverites commute by car alone, while only about 48 percent of Seattleites drive solo, according to the U.S. Census Bureau's American Community Survey.
That's where the Hancock administration hopes Denver will be in 12 years.
"Denver's fast growing, Seattle's fast-growing, and the recognition that we came to is that we're not gonna be able to grow if we keep adding cars," said Scott Kubly, the recently resigned director of the Seattle Department of Transportation. "In fact, if you believe that traffic in Seattle is unbearable, which I think most people do, and you also believe that we're going to keep growing… the only way to do that is carrying people by something other than driving alone, so that's gonna be walking, biking, and transit."
The contrast between Denver and Seattle should make for an enticing Moving People Forward conference in February 2018, Bicycle Colorado's annual event on the future of transport in the state. The advocates just announced Kubly as the keynote speaker and opened registration. He'll join Seattle City Traffic Engineer Dongho Chang, newly appointed Denver Public Works Executive Director Eulois Cleckley, and Denver Metro Chamber President and CEO Kelly Brough for a discussion about how to move from the bureaucratic refrain of "balancing" all modes to "prioritizing" the ones that curb solo driving. City Council President Albus Brooks will moderate.
Kubly recently gave an interview to Streetsblog, sharing how Seattle bucked the national trend of falling transit ridership and repurposed streets for more efficient and healthier transportation. Hint: It takes political courage to bypass the haters aching to preserve the status quo. Money helps, too, and so does getting things done quickly.
Take Seattle's Westlake Avenue, where SDOT closed two lanes to cars and gave them to buses. Former Seattle Mayor Ed Murray, along with Kubly, pushed the transit lanes from concept to reality in three-and-a-half months. The Seattle Times ran with the headline, "Two lanes closed on Westlake Avenue … and nobody noticed."
"Literally nobody argued because it's so readily apparent that you're carrying more people with transit than you are with cars," Kubly said.
Kubly says turning the ship is about framing the problem simply, realistically, and in pragmatic terms. In the end, moving people through limited space efficiently is about geometry.
"If you're running 12 buses an hour and they're full of people, at that point the transit is carrying more people than cars and you have to start giving them more priority," Kubly said. "So it's just about trying to be non-ideological about it and saying, 'We're doing this because it's carrying more people and if it wasn't carrying more people we wouldn't be doing it.'"
Imagine repurposing a car lane for buses on any downtown Denver street that quickly and sensibly. Broadway's new 24-7 bus lanes took less than a year — after winning a grant — but they were rush-hour bus lanes to begin with and buses still have to share them with cars.
Speaking of rapidity, remember the Broadway bike lane — a half-mile protected, two-way bikeway between Bayaud and Virginia avenues? It's been in "test" mode for a year-and-a-half and may not extend to the Cherry Creek Trail until 2019. While demos are nice to show the public what a street can be, it's best if elected officials and bureaucrats act fast, Kubly says.
"A lot of times there's this belief that if you go slower and you talk to more people it will make the change easier and people will be more happy with the end result," Kubly said. "And I would actually flip that on its head and say the exact opposite is true — that the faster you move, the less opposition you get and the more people just sort of accept that as the new status quo.
"We're talking about really small investments… you can always take it out if it's not working. The fact is is that it typically doesn't get taken out because it is working."
Another huge difference between Seattle's and Denver's transportation scene is funding.
Changing streets takes money, and the Seattle region has a lot of it. Leaders have asked voters to fund solutions to traffic, and voters responded to the tune of $54 billion last year, and $930 million in 2015, while the Denver region is still resting on its $4.7 billion FasTracks laurels. Denver proper approved $431 million for transport improvements this year, but about a third is going toward road maintenance and widening 56th Avenue.
Putting Seattle's brass alongside Denver's at Moving People Forward in February should make for an enticing conversation — and a learning opportunity for Denver. Let's hope decision-makers like Mayor Michael Hancock are listening.