Wednesday's Headlines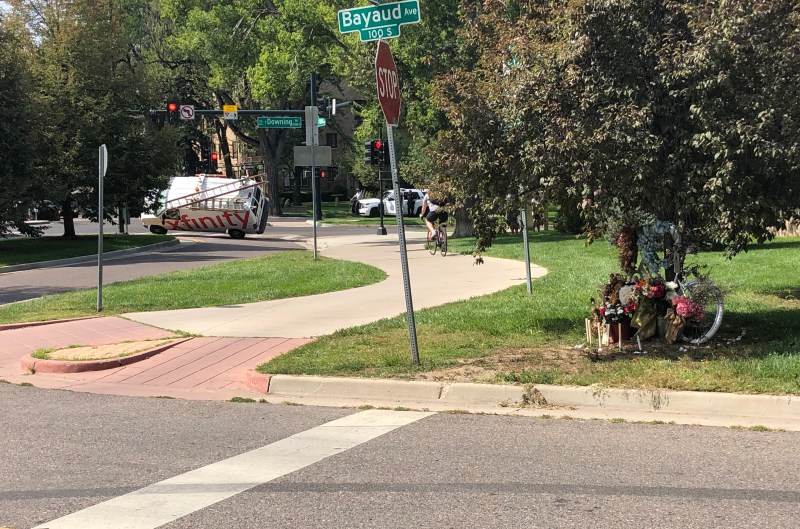 From Streetsblog
Dangerous Place: A photo shows an Xfinity van rolling over near the ghost bike placed in remembrance of Alexis Bounds. (

Streetsblog Denver

)

Streetsblog Archive: How Much Can Bicycling Help Fight Climate Change? A Lot, If Cities Try. (

Streetsblog USA

)
Covering Climate Now
Streetsblog is partnering with the 
Covering Climate Now
initiative to strengthen climate coverage. News organizations we highlight here may not be participating.
As the climate warms and the world shifts to clean energy, how will Colorado's lucrative oil and gas industry come to an end? (

Westword

)

On the same day the Trump administration announced it will revoke states' ability to set auto emissions standards (

Colorado Sun

), the CEO of the Alliance of Auto Manufacturers joins Colorado agency heads in an opinion piece praising the state's new clean car standards. (

Colorado Sun

)
Other news
More than a month after Public Works repaved Downing Street, it took tweets from pedestrians and cyclists to get the crosswalk at Speer and Downing repainted. (

9 News

)

The five options CDOT is considering to upgrade I-25 in Denver. (

9 News

)

CDOT would like to buy a former train yard south of downtown for  a new Front Range rail system or the potential expansion of I-25. (

CPR

)

Italian e-bike maker Fantic USA is moving its North American headquarters from California to Denver. (

Denver Business Journal

)

Another magazine promotes the narrative that Denver is one of the best cities for bike commutes. (

Denver Business Journal

)

Boulder will start construction of the Foothills Parkway bike and pedestrian underpass. (

City of Boulder

)

Hancock chooses Josh Laipply to be Denver's next chief projects officer, who will "ensure that public infrastructure is delivered to the level that the public expects and requires." (

Colorado Politics

)

NIMBY win: Denver City Council rejected a proposal to build an apartment complex near Sloan's Lake. Kendra Black and Jamie Torres were the only councilmembers to support the project. (

Westword

)
---
Streetsblog welcomes tips, story ideas and reader-submitted editorials. E-mail andy@streetsblog.org.
---