Wednesday's Headlines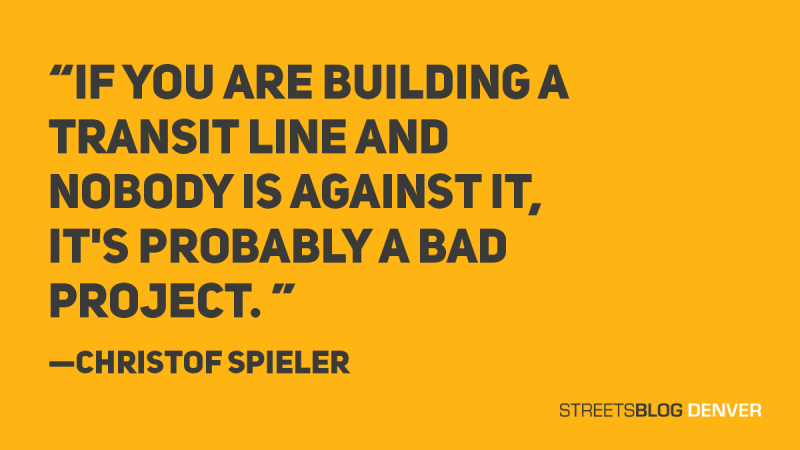 Why was a woman ejected from a light rail vehicle that derailed? Aurora police and RTD are investigating. (

Fox 31

)

Denver's buses and trains are not useful to most people. A new book shows why. (

Streetsblog Denver

)

"Is it really going to be in my lifetime?" Arvada residents wonder when RTD's G-Line will open. (

Denver7

)

People love it: Telluride redesigned its local transit network to increase frequency and make routes easier to understand without a map. (

Telluride Daily Planet

)

Longmont woman citied under Colorado's cycling under the influence law. (

Patch.com

)

Whoopie Goldberg's anti-bike lane rant exposes "widespread skepticism and hostility towards massive expenditures of tax dollars on multimodal transportation infrastructure for bikes, trains and buses," including in progressive Boulder. (

Daily Camera

)

Colorado car dealers sue to stop state from adopting more stringent California emissions standards. (

Denver Post

)

California's standards are anti-American? "A fundamentally-American freedom is under attack," writes Tim Jackson, who runs the Colorado Automobile Dealers Association, in an op-ed. (

Denver Post

)

Following California's lead, Utah is considering withholding transportation funding from communities that don't do more to encourage affordable housing. (

Salt Lake Tribune

)

You can learn to drive a steam train during a four-day class at remote Cumbres & Toltec engineer and fireman school near the Colorado-New Mexico border (

CPR

).